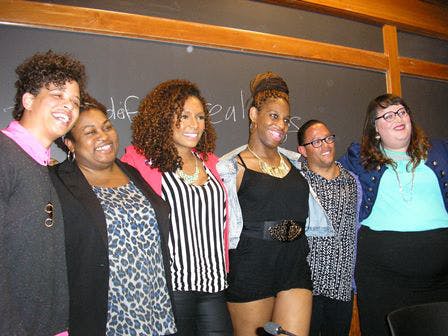 Janet Mock's bestselling memoir, Redefining Realness: My Path to Womanhood, Identity, Love & So Much More, is inspiring academic exploration of transgender issues and helping shape the evolution of women's, gender and sexuality studies.
On Wednesday at Barnard College in New York, after Mock read passages from her book, she and a panel made up of scholars, activists and writers discussed trans women's activism, community building and storytelling in social movements. The event was presented by the Barnard Center for Research on Women. Founded in 1971, BCRW connects scholarly inquiry with activism.
"Activists in academic settings give our work legs and arms," said panelist Dr. Brittney Cooper, who is an assistant professor of Women's and Gender Studies and Africana Studies at Rutgers University. "It's a really important reminder that knowledge production doesn't just happen in the academy. It happens in activist spaces, too."
Cooper, co-founder of the Crunk Feminist Collective, said there are few stories about Black women's lives and even less about trans Black women's lives. When she was teaching at the University of Alabama, students asked for a class on Black girls' studies, but there weren't enough books to make a course. Cooper referred to Mock as "a gift to our intellectual and cultural traditions of how we think of Black womanhood."
"People relate to stories far better than they relate to concepts," Cooper said. "Our students come with non-academic discourses, so if we want to meet our students where they're at and help them to bridge what they know with other academic concepts that we think are productive and generative, then it behooves us to begin at the non-academic space in many cases."
Mock said she had never thought about the lack of Black girlhood stories.
"Part of the story sharing process I love so much is I can write a very specific story that is very much about me and … then give that to people who then have their own processes and reactions," said Mock. To have her personal story of coming into girlhood and then into womanhood read and put into an academic canon was a bit stunning to her, Mock said.
The panel was chaired by Reina Gossett, activist-in-residence at BCRW. She said scholars often look at non-academic, popular work to introduce themselves to new concepts and new ways of thinking.
"I was looking to find my own definition of where I came from, tapping into myself on who I know I'm supposed to be and not letting others control definitions or, as Audre Lorde said, 'fantasies of me,' define me," said Mock.
Dr. Kim Hall, professor of English and Africana Studies at Barnard, said that, while Mock may not be an academic, she is an intellectual. Hall said the diverse panel showed the packed audience how Mock's book speaks on many levels.
"I'm definitely going to teach it in Black Women in America next year," said Hall. "It was like she was going through my syllabus every time she mentioned a name."
"We believe knowledge is important to social change, and knowledge is produced by all different kinds of people," said Dr. Janet Jakobsen, director of BCRW and professor of Women's, Gender and Sexuality Studies.
"Learning should be fun," continued Jakobsen. "Learning is enlivening. That's one of the things we saw tonight from the people who responded in the audience. Learning the things that were in this book allowed them to live their lives more fully.
"You saw many testimonies tonight to the importance of Janet Mock's storytelling. You also saw some storytelling in response from the audience. … That sharing is what makes for community, is what makes for social movement, it's what makes for action."