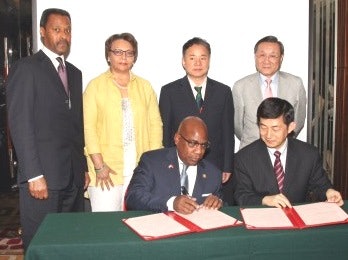 Over the next few years, 1,000 scholarships will be available to students enrolled at historically Black colleges and universities (HBCUs) to study at Chinese universities. The new scholarship program, which will enable HBCU students to participate in study programs in durations from four weeks to two years, is the centerpiece of a wide-ranging agreement between the Chinese government and the historically Black colleges and universities pilot network leadership group signed recently in Beijing, China.
On July 9, Morgan State University president David Wilson, while leading the HBCU pilot network delegation during the 5th U.S.-China Consultation on People-to-People Exchange event, signed a Memorandum of Understanding along with Sheng Jianxue, the secretary general of the China Education Association for International Exchange (CEAIE), establishing the HBCU-Chinese Universities Collaboration. The collaboration includes the scholarship program, which begins this fall and runs through fall 2017, and authorizes the HBCU pilot network and Chinese institutions to pursue other institutional exchanges.
While the HBCU pilot network group that traveled to Beijing included representatives from eight schools, the scholarship program is open to students at all of the nation's 104 HBCUs, according to the collaborative Memorandum of Understanding. Additionally, the memorandum specifies that the HBCU-Chinese University Collaboration Network be established to include 50 HBCUs and 50 Chinese colleges and universities.
"This is the first time that a country has reached out to HBCUs as a collective group of institutions to say to us, 'We want your students to come to our country at our expense to understand our history, our culture, our economic system, our norms, our values because we understand that you are rising as are we,'" Wilson told Diverse.
"This is huge for HBCUs. It is providing our students with an opportunity to get some real deep understanding of a rising economic power and to do it in real time," he added.
Tougaloo College president Beverly Wade Hogan told Diverse that she believes the agreement provides HBCUs a new measure of credibility and visibility within the global higher education community. "We've had in the last few years a national discussion about the relevance of HBCUs. I really think this [partnership] casts HBCUs in another kind of light in American higher education," she said.
"We left [Beijing] really thinking that the Chinese are beginning to understand the value of our institutions and the contributions that our institutions make in the area of STEM production, our innovative teaching and how we help to develop critical thinking skills in our students through our liberal arts core curricula," added Hogan, who was part of the HBCU pilot network delegation.
Earlier this week, Wilson sent letters to presidents and chancellors at all the nation's HBCUs outlining details of the HBCU-Chinese University Collaboration Network and the scholarship program. "CEAIE has identified 25 Chinese colleges and universities who have agreed to offer full scholarships to HBCU students, including tuition, room and board. This list is expected to grow to 50 over the 4-year duration of the program. This means that HBCU students who attend these Chinese institutions would have their tuition and room and board covered completely," Wilson's letter explained.
The letter indicated that project liaison Julia Wilson will be arranging a conference call within the coming weeks during which all HBCU presidents and chancellors can participate and ask questions about the collaboration and scholarship program.
Last week's agreement was the culmination of effort fulfilling a 1,000 HBCU scholarships pledge by Chinese vice premier Liu Yandong at a Washington meeting last November among Congressional Black Caucus leaders and HBCU presidents from Howard University, Morgan State University, Tougaloo College and Xavier University of Louisiana. In September 2013, Wilson and Hogan were part of a HBCU delegation that met with Yandong in China.
"[Yandong] had scheduled to meet with us for 15 to 20 minutes, and we stayed with her for about an hour and a half. It was a truly engaging meeting," Wilson recalled, noting that the meeting led directly to Yandong's November visit to Washington where she announced the HBCU scholarships.
Wilson said he expects that Morgan State students will be ready to study in China during the spring semester of the 2014-15 academic year. Under Wilson's leadership, the university has expanded its international programs and increased the number of international students from roughly 300 to nearly 500 this fall. "We have student here now representing 60 countries," he said.
This fall, two Morehouse College students are expected to take advantage of the scholarship program, likely making Morehouse the first school whose students will participate in the scholarship program. Since 2008, Morehouse has offered a Chinese studies program in which students are able to pursue a minor in the discipline.
Morehouse requires students who study in China to have completed at least one year of language courses, ensuring that they have basic language competency skills before they travel abroad. The new scholarship program should help the college increase the numbers the institution sends to China during the academic year, says Dr. Clarissa Myrick-Harris, dean of the Division of Humanities and Social Sciences at Morehouse College.
Since 2009, Morehouse has sent between 10 and 15 students each summer to study in China. During the school year, two Morehouse students are studying in China during a given semester. Typically, students have enrolled in a Mandarin language study program at Shanghai University. Additionally, Morehouse students have studied at the National Taiwan University in Taiwan. For three consecutive years, Morehouse students have been awarded the State Department Critical Language Scholarship to study in China for eight weeks.
Morehouse expects to offer Chinese studies as a full major within the next two years, according to Myrick-Harris. "We have several things in the works that we are looking to do to enhance and expand the program beyond offering a major. …Our aspirational goal is for our Chinese studies program to be a site of a Flagship Critical Language Center" through the National Security Education Program (NSEP), she says.