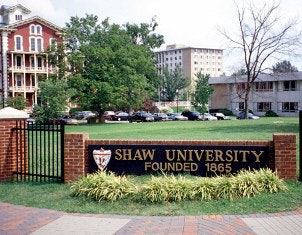 Marilyn Fields never dreamed of becoming a millionaire. But a twist of fate, and a lucky choice of a Powerball ticket, sent $2 million her way in early July.
The first check she wrote was to her alma mater, Shaw University. Fields' ties to Shaw run deep. She is the executive assistant of Shaw president Dr. Gaddis J. Faulcon and has worked at Shaw for the past 33 years.
"I graduated in May, 1976, and started to work here in June, 1976," Fields said. "I met my husband here, my son graduated from Shaw, and I have my job here, so it's in our blood."
With her check, Fields fully endowed a $25,000 scholarship fund she had started earlier this year.
"This lottery has provided me the opportunity to go ahead and satisfy my financial obligation for this scholarship," she said. The scholarship is need based and will be available to any student who is able to maintain a C average.
Though many HBCUs lament the paucity of alumni giving, Fields' story offers a counterpoint. Fields said that she has always given what she is able. "When I graduated, I wasn't able to give a lot," she said. "Sometimes it might not be but $5, sometimes it might be $10, but over the years, as my salary increased, my donations increased."
Shaw has been the recipient of Fields' giving because of her transformative experience there. "I think everything I have I owe to Shaw," she said. "When I came here—I am from a very rural area in North Carolina—I was very green and had not seen very much of the world and not met many people outside of my community. Shaw opened up a whole new world."
Fields grew up as the oldest of six children in Halifax County, North Carolina. Her father, the family's sole provider, worked at a brick-making factory. "I was the only person out of my family to go to college," she said.
College, in fact, would almost have eluded Fields had it not been for a Rev. Deloatch, a Shaw University graduate. Fields had been accepted to two colleges, but one would only take her in the spring and the other asked for half of the tuition up front, money that Fields' family did not have. Fields said that Deloatch visited her family home and encouraged her to go to Shaw.
"I don't know his first name, and I've never seen him since that day," Fields said. "He made a profound impact on me when he came to my house and told me that I could go to college."
At Shaw, professors and community members all lent a hand to Fields, impressing on her the importance of generosity.
"I just developed a love for the school. When I got out, I figured I needed to give something back," she said. Fields finds that some of the students who come to Shaw now are in similar situations to hers, with limited financial means and the first in their families to take on the challenge of higher education.
With her win, Fields hopes to benefit her school, her church, and relatives.
"I never dreamed, coming out of substandard housing, as poor as we were, that I would ever see the day that I could say I was a millionaire," Fields said. "Right now I'm still in disbelief."