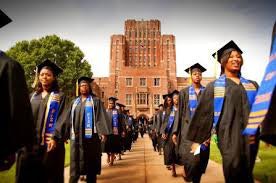 Historically Black colleges and universities, or HBCUs, graduate just 3 percent of the total U.S. college population ― but account for 20 percent of all Black college students earning degrees in the U.S. Around 34 percent of all HBCU students are considered low income, regardless of race, contrasted with just 28 percent at other schools. Originally designed to give Black Americans educational opportunities that weren't available anywhere else, HBCUs now face an identity crisis amid rising competition from other college and university systems, including the increasing quality and offerings of community colleges and completely online institutions.
Despite grasping for a place at the table when it comes to American education, HBCUs are still an important component of U.S. college education and are vital pieces in future generations of college-educated Americans. I believe with some focused effort in these three key areas, HBCUs can not only survive, but thrive, and continue to be the voice of underprivileged and advantaged college students alike in the quest to obtain a college-level education.
Mandatory mentoring programs. Instead of trying to keep up with the Harvards, and the Princetons, and the University of Phoenixes, HBCUs should remain true to what has always set them apart: their focus on embracing students from underprivileged backgrounds and providing them with a quality college education. Specifically, HBCUs should have strong mentoring programs in place that are not optional ― for either the mentors or those being mentored. The mentor programs should include faculty members, older students, alumni and community members. These mentors should serve as an inspiration to their students, particularly when times get tough, and also be shining examples of what can be accomplished with determination. Mentors should not only make sense in the particular field the students wishes to pursue, but should also be able to relate to the life circumstances of the students and serve less as authority figures, and more as trusted friends.
Tennessee State University has a mentoring program in place that pairs STEM degree freshmen with upperclassmen mentors, and pays the older mentors a tuition stipend for their role in the younger students' successes. I realize that not every mentor can be paid, but funding to grow and strengthen these mentoring programs is needed on the campus of every HBCU in order to graduate students of the highest quality, who in turn want to give back to their university. It is not enough to hire faculty members who seem to have a genuine interest in leading their students to success. It is too much to ask for these professors and instructors to mentor each and every student, along with their typical workload. HBCUs need to build mentoring programs that call on guidance from entire communities to build up the students on hand.
Stronger diversity programs. I've heard the argument that by aggressively expanding the diversity of HBCU student bodies, these institutions are "selling out" in some way, but I'd argue that the opposite action is flat-out reckless. Diversity is not just about raising enrollment numbers, and the dollars funneling through HBCUs. It's also about providing a real-world experience for the students who will certainly deal with more than their own race once they leave the campus.
Consider Bluefield State in West Virginia ― set in the heart of a once-vibrant coal mining town in Appalachia. Its latest figures from 2011 showed 82 percent of the students there were White. Gadsden State Community College in Alabama has 69 percent White students, and Lincoln University in Missouri has 58 percent. While it appears that White students are feeling increasingly more comfortable attending HBCUs, the number of Hispanic students is still dismal ― at just about 3 percent among all HBCUs.
If one of the main purposes of HBCUs is to provide an educational platform for those who have been disenfranchised, or are at a disadvantage when it comes to obtaining a college education, then they need to work harder to recruit and graduate Hispanic students ― and those of Asian and other descent, too. Students from all backgrounds should be accepted and embraced at HBCUs, and not just in the official school documentation.
Faculty, administration and current students should recognize the great unifying power in diversity and welcome it with open arms. Students should not be pushed away from these institutions or made to feel uncomfortable on the grounds. They should be encouraged and feel like part of the larger HBCU community ― and that doesn't just happen on its own. Aggressive diversity programs, specifically ones that tap into the needs of the local community demographics, should certainly be part of any HBCU long-term relevancy strategies.
Emphasis on technology. There's a reason why this isn't at the top of my list. I think that HBCUs are better served to focus on the first two points on this list, first and foremost, before heading to this one. The best student-centric programs and diversity recruitment tools aren't enough though, not for today's college students. Technology is important and certainly an integral part of nearly every contemporary career ― and students at HBCUs should never feel like they are sacrificing technological resources when they choose a HBCU over a competing institution.
Consider the historical relevancy of HBCUs when it comes to STEM learning areas. Thirty-one percent of all Black mathematicians and biological scientists have graduated from HBCUs, and 42 percent of agricultural scientists who are Black. This is a foothold HBCUs have developed over time ― and one they should cling to for survival. College-level technology, at the very least, should include remote learning opportunities and should escalate to cutting-edge equipment in classrooms. HBCUs should not be content to simply graduate innovators; they should be places where the innovation is taking place.
This takes resources, of course, and constant cash flow to stay current. For HBCUs already struggling to stay afloat, technology can be a stretch to an impossibility. Keeping the community aware of donation and technology needs at the HBCU must be made a priority. HBCUs should take advantage of the simple technology available ― through social media, email and even text notification communication ― to spread the word about their technology needs and have them met. Funding should be prioritized for technology initiatives and their importance should be recognized.
HBCUs are not only valuable parts of American history, but are vital to the future success of so many young people of this and future generations. They can survive ― but it will take modifications and strict prioritization with a student-centric focus that will involve every human asset these institutions can count, from administrators, to faculty, to alumni, to community members.
The rally cry for HBCUs is there and the schools must fight to keep their relevancy in a rapidly evolving American college landscape.