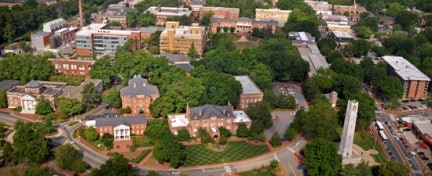 Campus of N.C. State University (Photo courtesy of N.C. State University).There has been what might be termed an epidemic in fraternities nationwide of late, caught behaving indefensibly. Some fraternities videotaped or posted their activities to Facebook, making them easier to view and share and ultimately creating the vehicle for their behaviors to become public knowledge.
Several have been shut down, including the University of Oklahoma's Sigma Alpha Epsilon fraternity, after a video featuring members singing a racist song on a bus to the tune of "If You're Happy and You Know It" was leaked to the school newspaper. But SAE is not alone in expressing intolerant views.
One of the latest fraternities to be publicly held accountable for similar attitudes is North Carolina State University's Pi Kappa Phi fraternity.
A NCSU cafeteria worker reportedly found a handwritten book written by Pi Kappa Phi brothers containing various hateful statements alluding to rape and lynching, on Thursday night.
NC State put the Pi Kappa Phi fraternity on interim suspension that night and, after obtaining the book on Friday, is conducting interviews to determine who is responsible for it, according to Frederick Hartman, NCSU director of public relations. All NCSU fraternities were told to suspend their social activities involving alcohol until further notice.
"NC State does not condone intolerant behaviors directed at any members of the community, and the content in the book that surfaced Thursday night is deeply troubling," said Dr. Mike Mullen, Vice Chancellor and Dean for Academic and Students Affairs, in a statement. "The university is working swiftly to determine who is responsible."