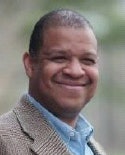 One of the youngest of this year's Most Promising Places to Work in Student Affairs at Baccalaureate and Liberal Arts Institutions, Hampshire College was founded in 1965 when the presidents of four New England postsecondary institutions sought to establish a college for bold, influential ideas in higher education. Today, those five institutions — Hampshire, Amherst College, Mount Holyoke College, Smith College and UMass Amherst — make up the Five College Consortium, an innovative nonprofit educational consortium established to promote broad educational and cultural objectives across member institutions in Amherst, Massachusetts.
Vice President for Student Affairs and Dean of Students Byron P. McCrae leads Hampshire College's
Division of Student Life. McCrae oversees 57 full-time and 19 part-time staff members, as well as a host of campus offices, including residence life and housing, community advocacy, the Office of New Student Programs, campus leadership and activities, and health and counseling services.
Hampshire also made the inaugural list of Most Promising Places in 2014. McCrae views this recognition as
encouragement for the college's commitment to diversity, inclusion and being actively anti-oppressive. He shares,
"Students, faculty, staff , senior campus leaders and trustees at Hampshire College all share a real interest in and commitment to diversity and inclusion. In fact, it's not just [a] matter of students caring deeply and staff and
faculty and trustees caring deeply, too, but rather that so much discussion and critical reflection and collaboration has occurred in interdepartmental, interdisciplinary and intergenerational settings.
"Now, diversity and anti-racism work are part of the college's new strategic plan, the college is enrolling some of its most diverse classes in its history, and faculty and campus leaders are helping students link their academic interests and research on topics such as the school-to-prison pipeline and social sustainability to opportunities for manifesting significant institutional change. For example, students have worked with faculty, senior administrators and one of the college's formal governance committees to develop a plan for ensuring the college does not and will not hold investments in private prisons. What an important eff ort to see happening, much less be a part of; I couldn't feel more invigorated in my work in student affairs than I do now." It is their focus on holistic development that makes Hampshire College one of this year's Most Promising Places to Work in Student Affairs at Baccalaureate and Liberal Arts Institutions.