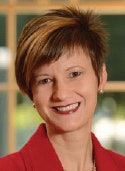 The University of Mississippi (Ole Miss) is the state of Mississippi's flagship university. A world-class public research university, the institution has a long history of producing leaders in public service, academics and innovative research. With more than 15,000 students, Ole Miss is the state's largest university, with a major medical school, a nationally recognized law school and 15 academic divisions. It has been ranked as one of America's best college buys by Forbes and one of the best places to work by The Chronicle of Higher Education.
Since 2012, the Ole Miss Division of Student Affairs has been led by Dr. Brandi Hephner LaBanc. Dr. Hephner LaBanc supervises 237 full-time staff members in a variety of functional areas, including counseling, career services, conflict resolution and student conduct, inclusion and cross cultural engagement, and student housing, amongst others.
Upon receiving notice of Ole Miss's inclusion in this year's list of Most Promising Places, Hephner LeBanc expressed, "This recognition is a truly wonderful public honor that recognizes one of our best kept secrets — The University of Mississippi is an amazing place to work as a student affairs professional. The staff have created
a warm, supportive and collaborative work environment based upon inclusivity and a shared passion for student success. I am proud to work among a diverse group of individuals who work tirelessly on behalf of our students and take care of one another along the way. The division staff deeply appreciate this high honor awarded by ACPA, Diverse and CHEE. My hope is that this honor will highlight the wonderful things Ole Miss and Mississippi have to offer higher educational professionals."
The University of Mississippi is a community of learning dedicated to nurturing excellence in intellectual inquiry and personal character in an open and diverse environment. Guided by the values of respect for the dignity of each person, fairness and civility, and personal and professional integrity, the Ole Miss Division of Student Aff airs is a supportive environment for the development of student aff airs professionals. It is the enactment of these values that make The University of Mississippi one of this year's Most Promising Places to Work in Student Affairs at Research Institutions.