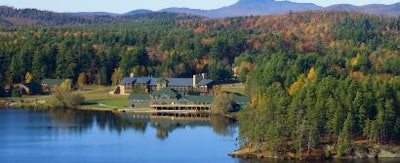 PAUL SMITHS, N.Y. (AP) – A New York judge denied a college's petition to add the wife of a Wall Street billionaire to its name, citing the will of the founding donor.
Paul Smith's College President Cathy Dove announced the ruling on the Adirondack college's website Wednesday.
The college's board of trustees voted over the summer to rename the college Joan Weill-Paul Smith's College in exchange for a $20 million donation from Weill, wife of Sanford Weill, the former CEO of Citigroup.
The plan drew the ire of alumni who said it set a bad precedent for charitable giving.
The college was established by the will of J. Phelps Smith. He stipulated the college be "forever known as Paul Smith's College of Arts and Sciences" to honor his father, who ran a hotel on the lakeside college's site in the 19th century.
Dove, who became the college's first female president last summer in the wake of cost-cutting layoffs of 12 percent of staff, had argued that the $20 million Weill had pledged was critical to the school's future. She said the addition of Weill's name would add international cachet that would attract more donations and help build enrollment, currently around 1,000.
"There is little doubt the financial position of Paul Smith's, or any institution for that matter, would improve with the injection of $20 million of revenue," Franklin County state Supreme Court Judge John Ellis wrote in his decision, which was released Tuesday. But he rejected the argument that the college's continued existence depended on changing its name.
Alumni dismayed at the renaming proposal had signed petitions opposing it and flooded the local newspaper with angry letters. About 300 current students also signed a petition against the naming deal.
A group of alumni tried without success to intervene in the court case.
"We're thrilled that Judge Ellis did follow the law and did the right thing," said attorney Mark Schneider, who represented the alumni group. "The judge really gave it a thorough independent review."
Joan Weill has been actively involved with the school for two decades, since she and her husband bought a summer home nearby. The couple donated millions of dollars for a new library and student center that are named for Joan Weill.
"While we are disappointed in the court's decision, the board of trustees and I truly appreciate the enduring connection our people feel to the college and our traditions," Dove said in an open letter Wednesday. "We look forward to working with faculty, staff students, alumni and other stakeholders as we address the challenges that we along with many other colleges face in this environment, consider our options and shape our future."
Asked whether Weill will go ahead with her donation without the name change, Shannon Oborne, the college's chief marketing officer, said, "I'm not in a position to speculate on that right now."