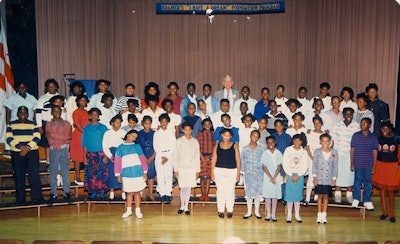 Steve Bumbaugh didn't know that his star student's mom was a crack addict. He didn't know that she was too ashamed to ask anyone for help. And he didn't know that she declined a college scholarship, which she beat every grim statistic to earn, because she was afraid her mom would overdose if she left home.
It was D.C. in 1988. The nation's capital city, in the throes of the crack epidemic, also was the nation's murder capital. About half of the teenagers in the girl's Anacostia neighborhood in Southeast D.C. didn't even make it past junior high school.
So when a wealthy benefactor that year offered Martece (Gooden) Yates and 66 other seventh-graders from one of the roughest neighborhoods in D.C. free college tuition, the strings attached to the deal were heavy and tangled: The students had to make it to college.
"Southeast 67," a documentary airing at Austin's South by Southwest festival this month, follows the stories of these students, known as "Dreamers," two decades after their high school graduation. These 67 students attended Kramer Middle School, and most later enrolled in Eastern Senior High School.
Read the full story via The Washington Post: These Students Wanted an Education When D.C. Was the Nation's 'Murder Capital'