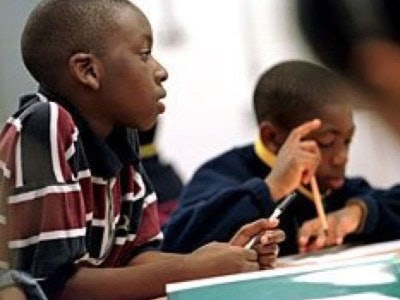 A University of Michigan-based program designed to prevent substance abuse, violence and early sexual activity among African American boys who do not live with their fathers, is gaining national recognition.
The Fathers and Sons program at The U-M School of Public Health has been awarded a five-year, $3 million grant from the National Institutes of Health to conduct research to determine if the program ― which was implemented and produced successful results in Flint, Mich. — can have a similar impact in Chicago.
"Almost 70 percent of African-American children live apart from their biological fathers at some point in their lives," said Dr. Cleopatra Howard Caldwell, the principal investigator of the study and director of the Center for Research on Ethnicity Culture and Health at the U-M School of Public Health. "This places them at risk for engaging in risky behaviors often resulting in poor health outcomes."
Originally funded by the Centers for Disease Control and Prevention, the Fathers and Sons program encourages positive health outcomes for the boys by actively involving nonresident fathers in their lives, according to university officials. There are three main program components—improving parent-child communication, enhancing cultural awareness and strengthening parenting skills. The program targets Black boys between the ages of 8-12.
The program was developed by a community-research partnership that included several community-based organizations in Flint, the Genesee County Health Department and the U-M School of Public Health.
"It has been successful in influencing several factors that play an important role in reducing risky behaviors in youth. The program helped fathers spend more time monitoring their sons' activities and it improved their communication about sex, violence and racial issues," Caldwell said.
According to health experts, African-American boys face disproportionate poor health outcomes in a number of areas when compared to men of other racial and ethnic groups. The Chicago Fathers and Sons Study will address substance use, depression and use of services among African-American nonresident fathers, in addition to preventing risky youth behaviors.
According to officials, the study will be conducted with 400 families in the Washington Park community, using a randomized control design to test the effectiveness of the original parenting program compared to a family-based physical activity and nutrition program.
"We developed this program with the goal of determining the potential role of parenting for improving African-American boys' and men's health," Caldwell said. "Our ultimate goal is to produce a national model that can be used as part of family-based programming to improve health, especially for vulnerable populations."
In addition to U-M School of Public Health, the new study brings together the University of Chicago's School of Social Service Administration, Columbia University's School of Social Welfare, the K.L.E.O. Community Life Center in Washington Park and the Flint Odyssey House-Health Awareness Center representing the Fathers and Sons Steering Committee from Flint.
Jamal Eric Watson can be reached at jwatson1@diverseeducation.com You can follow him on twitter @jamalericwatson