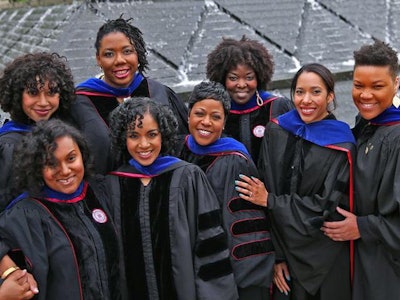 They're called the "great eight." They are women, they are African-American, and they are making history this weekend. All are receiving Ph.D. degrees from the Indiana University School of Education.
Demetrees Hutchins, Shannon McCullough, Nadrea Njoku, Juhanna Rogers, Johari Shuck and Jasmine Haywood have earned doctorates in the field of higher education and student affairs. Tiffany Kyser and Jada Phelps Moultrie earned doctorates in urban education studies.
It's a big deal. To put it into perspective, it's rare when the School of Education graduates three or four Ph.D. candidates in one year, said Robin Hughes, interim executive associate dean. And typically, there might be one or two people of color in all disciplines earning a Ph.D., she said.
Read the full story via The IndyStar.