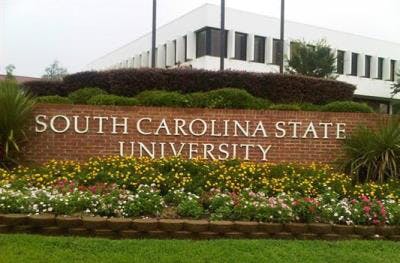 South Carolina State University, one of several of the nation's Historically Black Colleges and Universities (HBCUs) beset by enrollment declines and financial troubles, won a significant vote of confidence Thursday when the powerful Southern Association of Colleges and Schools Commission on Colleges (SASCOC) removed the institution from probation, ending nearly a decade of troubles with the college peer accrediting group.
As staff, alumni and other supporters cheered the news late Thursday, the scene was more somber in Georgia, where Paine College lost its bid to remain accredited, despite last-minute efforts by its supporters to demonstrate financial backing for the institution. It was jointly founded more than a century ago by leaders of the Christian Methodist Episcopal (CME) Church and the Methodist Church, South (now United Methodist Church). Attorney Barbara Bouknight, chairman of the Paine board of trustees, said the college would appeal the SACS decision.
Thursday's SACSCOC decisions on South Carolina State and Paine were among the most noted of nearly 200 declarations made this week by the panel at its summer meeting in Memphis.
In other key decisions, SACSCOC removed Virginia State and Alabama State universities from warning status, continued Tuskegee University (Alabama) on warning and placed Elizabeth City State University (North Carolina) on warning for 12 months.
Meanwhile, the SACSCOC removed the University of North Carolina, Chapel Hill from probation, ending a long and embarrassing case that university Chancellor Carol Folt characterized in a Thursday statement as "academics-athletics fraud." The case stemmed from an investigation into employees of the now defunct department of African and Afro-American Studies who were found by the university to have "worked together to perpetrate academic fraud" for some 18 years, said Folt.
Since the program folded in 2011, UNC has offered free classes to about 80 students and more than 300 alumni, Folt said, noting that the NCAA is still reviewing corrective steps taken by the institution.
In higher education and government circles, SACSCOC's word is considered the gold standard for most colleges and universities in the South, as SACSCOC sets performance standards adhered to by nearly 800 colleges and universities across the South.
In general, the 77-member commission, backed by teams of peers who visit and monitor institutions, has nearly 100 standards by which member schools are assessed every 10 years.
The assessments result in an institution being in compliance with all the standards or failing to meet one or more of the standards. Institutions that fail to comply with standards are then put through a series of trial periods—monitoring, warning, probation or loss of membership—ranging from six months to four years to comply with shortcomings before facing expulsion from the organization.
Aside from loss of standing among their peers, institutions that are removed from membership and do not get back in eventually lose the ability to qualify for federal aid to give students to pursue college and receive funds from numerous foundations that use federal endorsement as a yardstick for determining whether to give aid.
Once an institution attains accreditation from SACSCOC, that stamp of endorsement lasts 10 years.
This week's meeting of SACSCOC was the last time South Carolina State and Paine would have a chance to avoid the worst of SACSCOC penalties—removal from membership. Most of the remaining issues, in each case, had to do with financial stability and potential.
While the institutions had been on notice for at least two years that they were approaching the accreditation cliff, it was not until recently that decisive actions were taken to reverse the steady declines.
In the case of South Carolina, the last year has been marked by a concerted effort to reverse its fortunes. This time a year ago, W. Franklin Evans, a veteran of the institution's administrative ranks, was hired as chief executive of the institution and has since worked with university trustees, staff and alumni to enlist their support in stemming a decline in enrollment and to drum up widespread legislative support to give the university a major lift. He continues to serve as interim president.
By the fall, enrollment at South Carolina State was showing signs of stabilizing. Evans got the institution's employees to accept 12 furlough days. He imposed some layoffs. He recruited several skilled finance managers who began renegotiating major vendor contracts that were costing millions of dollars a year. He won the support of lawmakers, crucial to the enactment this month of legislation forgiving the state $12 million in state loans and loaning the institution $6 million repayable over three years.
Already private giving to South Carolina State has risen by 361 percent to $4.2 million, the institution says. Alumni giving has risen 81 percent to $972, 000. To add firepower to its rebound efforts, the university earlier this month secured a $500,000 cash gift for student aid from basketball legend and businessman Earvin "Magic" Johnson. He also pledged to help raise a $2.5 million endowment for students attending the university's business school.
"This could have been addressed a long time ago," said veteran South Carolina State Representative Jerry Govan, a legislative advocate for the institution for more than 20 years, reflecting on the past 12 months' reversal of attitudes and fortune about the institution.
Govan said much work is still to be done. That said, Thursday's SACSCOC decision was a big step forward, he said.
During his time as a lawmaker, Govan has worked with South Carolina State through five presidents, several boards of trustees, a surge in enrollment to more than 5,000 students to its current 2,900, and more warnings from SACSCOC than he cares to count.
Paine College may not be down for the count, meanwhile, despite Thursday's action by SACSCOC. It is expected to appeal Thursday's decision, a move that will put its expulsion on hold and block any cut-off of federal student aid funds until the issue is resolved.
Paine hopes to resolve its issues as did Texas College, one of Paine's peer CME Church-affiliated institutions. Texas faced the same accreditation issue in the last century. It bounced back, and today the 800-students-plus institution operates with a small surplus.
Paine has seen its enrollment slide in recent years to approximately 550 students, with graduation averaging about 100 each year for the past two decades. Still, the prospect of the institution losing standing has spurred many of its nearly 4,000 tiny alumni ranks to give more, say alumni officials. Meanwhile, the CME Church nationwide announced this spring it would donate $1 million to Paine by May 2017 to help strengthen the institution's finances. The United Methodist Church donated $350,000 this spring.
"We will do our best to do what we are asked to do" to support Paine, said the Rev. Lawrence Reddick, Senior Bishop of the CME Church.