Two athletic conferences, comprised primarily of historically Black colleges and universities, have not moved scheduled championship events out of North Carolina as the NCAA has. This comes in the wake of the state's passage of a controversial law restricting transgender bathroom use and impacting LGBT civil rights. However, both said Thursday that the matter still is under review.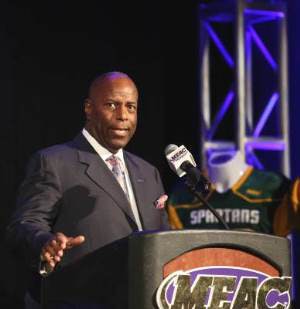 The Mid-Eastern Athletic Conference (MEAC) is scheduled to hold its men's and women's outdoor track and field championships in Greensboro, North Carolina, next May. Commissioner Dennis E. Thomas said in a phone interview that the association's presidents and chancellors are currently reviewing whether they should move the championships from North Carolina.
"I think the NCAA made the absolute right call, and I also think the ACC made the right call," said Thomas, referring to the NCAA's announcement Monday that seven tournaments scheduled for the 2016-17 academic year would be relocated from Charlotte as a result of the legislation known as HB2. On Tuesday, the Atlantic Coast Conference (ACC) announced that it would move eight championships from North Carolina this year. The ACC's decision was a particularly strong statement, as it is headquartered in North Carolina and four of its 15 members are located in the state.
"Intercollegiate athletic competition is about providing a good environment for our student-athletes to participate," said Thomas.
Earlier this week, the Charlotte-based Central Intercollegiate Athletic Association (CIAA) said that it did not plan to change the location of any of the 10 championships scheduled to be held in North Carolina this academic year.
The CIAA has strong ties to the Tar Heel State. Of the CIAA's 12 member institutions, eight are located in North Carolina. In 2015, CIAA moved its headquarters from Hampton, Virginia, to Charlotte. On its website, the CIAA touts the economic impact it has had on North Carolina, including what it says is a $325 million impact on the city of Charlotte alone over the past 10 years. Chowan University is the lone non-HBCU among the CIAA's 12 members.
Despite the CIAA's announcement on Tuesday, the conversation is not over yet, according to CIAA Board of Directors Chairman and Johnson C. Smith University President Ronald L. Carter.
"We are very concerned that, indeed, many of our colleagues have weighed the issues and made decisions to withdraw from the state of North Carolina," he said by phone on Thursday afternoon. "It's important for us to come together again in discussion to really look at all the issues and determine what is in the best interest for student-athletes as well as the conference itself."
Another meeting of the Board of Directors is currently being planned for within the week.
That the majority of CIAA institutions are in North Carolina is "of consideration, but really the most important consideration will be the value claim that each school has for diversity, inclusion and nondiscrimination," Carter added.
CIAA Commissioner Jacqie McWilliams released a brief statement on Tuesday night. Per the statement: "The NCAA's announcement to relocate its seven championships demonstrates the ongoing, negative impact that HB2 has on the state of North Carolina. This continues to be of concern to the CIAA with 8 of our 12 member-institutions residing in the state and our headquarters residing in Charlotte.
"The decision whether or not to relocate our championships is at the discretion of the CIAA Board of Directors. Our priority is always to provide our student-athletes the opportunity to compete, serve, and create impact within their communities and the CIAA footprint. The CIAA Board will continue to discuss and determine how to move forward for the collective interest of our student-athletes and stakeholders and for [sic] future of our conference. The CIAA is committed in providing the best experience for our student-athletes and creating a respectful and inclusive culture for our diverse membership and stakeholders."
In a statement on its website, the NCAA referred to the impact HB2 might have on athletes, coaches, administrators and fans. "We believe in providing a safe and respectful environment at our events and are committed to providing the best experience possible for college athletes, fans and everyone taking part in our championships," NCAA President Mark Emmert stated.
The Board of Directors also called out specific issues it has with North Carolina. State law invalidates "any local law that treats sexual orientation as a protected class or has a purpose to prevent discrimination against lesbian, gay, bisexual or transgender individuals," prohibits individuals from using public restrooms that do not correspond with their birth gender, and also permits government officials to refuse services to the LGBT community. Several major corporations have relocated conferences scheduled to be held in North Carolina. In addition, five states and many cities have banned representatives of public institutions from traveling to North Carolina.
Staff writer Catherine Morris can be reached at cmorris@diverseeducation.com.