With less than two months to go before election day, Hillary Clinton is fading in the polls and Donald Trump is rising. Despite her many qualifications and solid positions, Clinton may ultimately be hindered from reaching her goal of being the nation's first female president due to voters' more visceral concerns—that of trust and likeability.
In the politics of higher ed, all that matters as well.
Just ask Florida A&M University's now former president, Elmira Mangum.
I admit I didn't know much about Mangum or FAMU until last week, when I happened to be in Tallahassee and saw her name make headlines.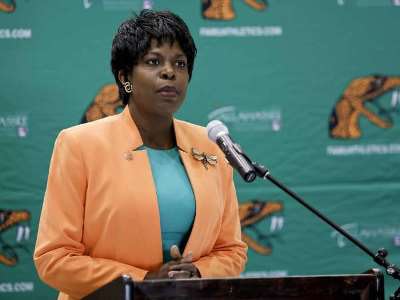 Until last week, Mangum was the first Black woman president of FAMU, one of the largest historically Black colleges and universities in the nation, and last week was named No.1 among public HBCUs and No. 7 overall among all HBCUs.
Beyond the annual U.S. News PR, the school realized significant progress during Mangum's 29 months on the job. When FAMU was ranked at the bottom of Florida's state university system, Mangum lifted it to eighth. It earned the school $11.5 million in funding from the state.
You'd think all this would make someone like Mangum, a hot property as the African-American female leader of a university with a $127 million endowment, more than 600 staff, nearly 10,000 students and who has lifted her school back to respectability.
Mangum should be considered a jewel of diversity—a college leader with a real record of success.
What school wouldn't want to clone her? Or at least show her, she's valued?
Nope. FAMU's trustees showed Mangum the door, placing her on permanent paid sabbatical until her contract ends in April.
And then Mangum told reporters afterward she's playing golf.
In an interview with media, Mangum was asked if she would again "aspire to presidential leadership."
Her quick response spoke volumes. "No, I am not aspiring to presidential leadership," Mangum said with a laugh.
And that's too bad.
Her positive record shows Mangum was able to do the right thing for students and the university. She said as much in her president's report, where she referred to the humble beginnings of the school from the State Normal College for Colored Students in 1887, and how visionary leadership has helped it evolve to the modern FAMU.
But her report presentation was like walking the plank.
The trustees swiftly voted 10 to 1 to oust her, the lone dissent coming from the student government rep.
Students showed their support for Mangum's initiatives that were centered on improving their educational experience, which means getting in, staying in, and finishing.
But signs of faculty and trustee disenchantment had been growing since Mangum was hired more than two years ago.
According to Byron Dobson in the Tallahassee Democrat, "while Mangum promoted innovation and a corporate-like culture of instituting best practices, trustees said she lacked the leadership, communication skills and political acumen that could have earned her more respect from faculty, the Board of Governors, legislators and big-money donors."
Communication skills? Political acumen?
Oh, that's just "likeability."
Or getting people to like you. You have to care about that "non-important" stuff to get to the top. And stay up.
Whether nationally or in higher ed, presidential politics is always a game of hardball.
Hillary Clinton knows that problem.
And now, so does former FAMU President Elmira Mangum.
Veteran journalist and commentator Emil Guillermo writes on race, politics, culture and society at http://www.aaldef.org/blog