Students in public housing in nine cities are set to get "education navigators" to help them fill out the often onerous form known as the Free Application for Federal Student Aid, or FAFSA, thanks to a $2.5 million "demonstration" program the U.S. Department of Housing and Urban Development announced Friday.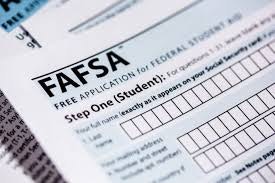 "This is an investment in our young people by putting them on a path to a college degree and creating greater opportunity to more prosperous lives," said HUD Secretary Julián Castro.
Several financial aid experts say the investment is a good one given the complexities associated with filling out the FAFSA.
"It sounds like a good investment because about 2 million students who are already eligible for Pell grants don't complete the FAFSA, and that's just those who are in college," said Lauren Asher, president of The Institute for College Access & Success, or TICAS.
"There are other students who can't get through the process or don't even know that they need to do it."
Indeed, an analysis by NerdWallet earlier this year found that about 1.4 million high school students failed to fill out the FAFSA in 2014 and consequently left $2.7 billion on the table.
"Those who are eligible for aid and not accessing it may end up working long hours or cutting back on classes or dropping out because they don't have the resources to keep up with college and keep a roof over their head," Asher said.
A number of legislative efforts have been made to simplify the FAFSA.
But filling out the form isn't always the only hurdle that students must clear. Asher cited a recent paper from TICAS that found the US Department of Education required 5.3 million students in the 2014-2015 school year to take an additional step to "further verify" information they submitted via the FAFSA.
"For many students, current verification practices unnecessarily delay or derail access to the aid they qualify for, which they need to start and stay in college," the paper states.
And even though there is now an IRS data retrieval tool — or DRT — that enables FAFSA filers to simply transfer some key information from their tax forms to the FAFSA, not all students can access the DRT because their families may earn too little to owe federal taxes, or may have a tax status that doesn't allow them to use the DRT.
Mark Kantrowitz, publisher and vice president of cappex.com, a free website about planning and paying for college, also commended HUD for helping students in public housing to overcome the hurdles associated with filling out the FAFSA.
"A key benefit of such assistance is that it is proactive, not just reactive," said Kantrowitz, who is author of a free online book titled "Filing the FAFSA."
Kantrowitz cited an experiment — known as "The FAFSA Project" — in which the tax firm H&R Block achieved improvements in FAFSA completion and college enrollment rates by offering free FAFSA assistance to low- to moderate-income families.
Asher said it was the personal touch and having someone to talk to that made a difference with the H&R Block project.
"It will be interesting to see if there are similar results in this program," Kantrowitz said.
The project is one of several in which HUD has been taking a serious look at ways to increase FAFSA completion among students and families who reside in HUD housing.
For instance, Leah Lozier, Presidential Management Fellow at HUD, recently presented a paper that looked at ways to increase FAFSA completion among HUD-assisted youth through messaging.
Lozier has said that "even a small, marginal increase in the amount of students that are completing FAFSA could translate into hundreds to thousands more applicants," given how many children live in HUD housing.
"That is, even if this project has a small effect in terms of percentages, it could have a really large impact in terms of reaching the people HUD serves and using housing as a platform," Lozier has said of the messaging project.
About 1.97 million residents — about 481,360 of whom are age 6 to 17 — reside in public housing, according to HUD statistics.
The program announced Friday takes things a step further than messaging.
The program — called the ROSS for Education program, ROSS being an acronym for Resident Opportunity and Self-Sufficiency — is one of several HUD initiatives to increase access to federal financial aid for HUD-assisted families and students.
Through the program — also known as Project SOAR (Students + Opportunities + Achievements = Results) — grant funding is not only being made available to public housing authorities to deploy "education navigators" to help young people who reside in public housing fill out the FAFSA, but to also help with applying for college and making sense of acceptance letters.
Following is a list of the public housing authorities selected for funding through Project SOAR and their respective grant amounts:
Chicago Housing Authority, $452,000
City of Phoenix Housing Department, $452,000
Housing Authority of the City of High Point (N.C.), $156,938
Housing Authority of the City of Los Angeles, $452,000
Housing Authority of the City of Milwaukee, $81,800
Housing Authority of the City of Prichard (Ala.), $106,049
Housing Authority of the City of Seattle, $452,000
Northwest Georgia Housing Authority, Rome (Ga.), $100,000
Philadelphia Housing Authority, Philadelphia $300,356
Jamaal Abdul-Alim can be reached at jabdul-alim@diverseeducation.com. You can follow him on Twitter @dcwriter360.