Talladega College ignited controversy on Friday afternoon when its marching band was included on a list of 40 organizations purportedly slated to perform in President-elect's Donald Trump's Inaugural Parade on January 20. The list was released by Trump's Presidential Inaugural Committee (PIC).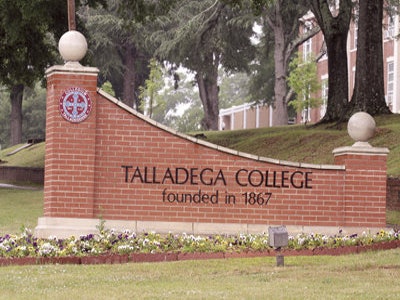 As of early Tuesday afternoon, however, Talladega officials said there has not been an official decision from the president's office on whether Talladega's Marching Tornadoes will be performing at the inauguration, contradicting the PIC's assertions.
"From Trump's inaugural committee, via their press release, we are listed as one of the schools in attendance, but the official word that I'm receiving from the president is that a decision has not been made as to whether we would attend or not," a Talladega representative said. An email to the PIC was not returned.
Talladega is a four-year liberal arts college serving 786 students and has the distinction of being the oldest historically Black institution of higher education in the state of Alabama. Its marching band has been in existence since 2012 and performed at an NFL game between the Denver Broncos and the New Orleans Saints in November.
Since Friday, Talladega community members have voiced both opposition and support of the college's inclusion on the list of organizations expected to perform. Dollan Young, a current Talladega student, circulated a Change.org petition arguing that marching in the parade is an apolitical act.
"We believe that this parade is not about politics it's about seeing first hand the process of a transition. Its not to support of no political party its about the experience that the students will obtain. We are not one-track thinkers and believe everyone is entitled to the own beliefs. However we are in support of The United States of America," the petition read in part.
A 1974 alumnus created a separate petition requesting that Talladega withdraw from the parade.
"As an alumnus I respectfully request that Talladega College Band withdraw from any inaugural events for Donald Trump," Shirley Pratt Ferrill wrote on Monday, garnering 469 supporters as of Tuesday afternoon. "In view of his behavior and comments I strongly do not want Talladega College to give the appearance of supporting him."
Marybeth Gasman, professor of higher education and director of the Penn Center for Minority-Serving Institutions, expressed concerns about Trump's effect on race relations in an email to Diverse.
"As a historian, I am particularly troubled as we have seen all of this before in the American South, in Nazi Germany, in South Africa, and elsewhere," Gasman wrote. "We have seen people not take hatred seriously and stood by to watch the outcome."
In Gasman's view, no college should march at the inauguration but noted that the symbolism of an HBCU marching band performing for Trump is particularly fraught.
"I will note that HBCUs have been places where students rose up against injustice rather than acquiesce," she wrote. "The Civil Rights Movement was fought on the backs of HBCU graduates and students and I think marching does a disservice to their legacy."
Staff writer Catherine Morris can be reached at cmorris@diverseeducation.com.