WASHINGTON — As Friday's inauguration of President-elect Donald J. Trump draws nearer, activists already have started to mount fierce opposition to his presidency.
Civil rights leaders rallied several thousand activists, who braved the dreary rain and freezing temperatures Saturday and marched to the National Mall chanting, "No justice, no peace."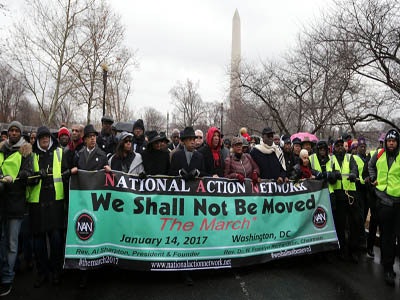 "We march in the driving rain because we want the nation to understand that what has been fought for and gained, that you're going to need more than one election to turn it around," said the Rev. Al Sharpton, president of the National Action Network, the civil rights group that he founded in 1991.
The activists called for criminal justice and police reform and urged policymakers to safeguard the Affordable Care Act and funding for education, issues they say that Dr. Martin Luther King Jr. would support.
"I'm worried about whether or not Pell Grants and student loans will be there for me in the future," said 17-year-old high school student Da'Quan Robertson, who is planning to begin Montgomery County College in Maryland in the fall. "There is just so much that seems scary about this new administration."
Robertson and others may get a better sense this week of what policies the U.S. Department of Education will advocate for with the confirmation hearings of Betsy DeVos, Trump's designee for secretary of education.
Gwen Carr is the mother of Eric Garner, the 41-year-old Staten Island man who was killed after police placed him in a chokehold. That incident galvanized young people from across the country and helped to spur a campus-based movement for social justice.
"We lost an election, but we did not lose our minds," said Carr, who added that, in addition to police and criminal justice reform, protecting voting rights and investing in education remain critically important. "When we leave here, we have work to do."
Dr. Michael Eric Dyson, a professor of sociology at Georgetown University, said that coalitions will have to work together during the Trump administration.
"We must dig deep. We must remember that we are all in this together — gay and straight and lesbian and transgender and bisexual, Christian and Muslim, Black and White," said Dyson. "What we must tell our White brothers and sisters is, is that you have to learn from us as well. Don't be hoodwinked and snookered by investing in White supremacy and the unconscious reflex of bigotry. You got to push beyond that to understand that we are all in this together."
Sharpton said that he will lead the resistance to Trump.
"We come not to appeal to Donald Trump, because he's made it clear what his policies are and what his nominations are," said Sharpton. "We come to say to Democrats in the Senate and in the House and to the moderate Republicans to get some backbone, and some guts.
"We didn't send you down here to be weak-kneed and get in the room and try to make friends. We sent you down here to stand up for senior citizens, to stand up for students that can't pay their loans, to stand up for victims of police abuse. If you can't do the job then we will come here are bring you back home."
On Thursday, several teachers unions and education groups will stage a national day of action to "defend" schools and to protect public school education. On Friday — the day of the inauguration — college students from across the country are planning campus walkouts. In addition, on Saturday, more than 200,000 people are expected to participate in the Women's March on Washington.
Jamal Eric Watson can be reached at jwatson1@diverseeducation.com. You can follow him on Twitter @jamalericwatson.