For the past two weeks, a group of community college students and faculty advisors from South Florida has joined students at a number of select institutions participating in The Washington Center's 2017 Presidential Inauguration Academic Seminar.
According to a news release from Miami Dade College (MDC), the students had the opportunity to hear guest lectures and participate in small group discussions and budget and policy simulations. Today's presidential inauguration is a bookend to the two weeks of experiences for the students, which included visits with Capitol Hill policymakers and even participation in a Day of Service activity with Secretary of Education John King on Martin Luther King Jr. Day, says MDC political science and international relations professor Richard Tapia. Tapia served as a faculty adviser for this year's seminar.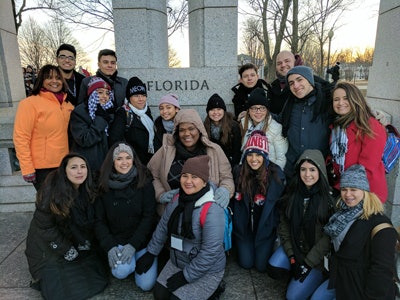 According to Tapia, experiential education "is so vital. I incorporate it in my classes at Miami Dade, when they intern or they participate somewhere in the local community. But seeing it in D.C., in the nation's capital, just makes it so much more potent."
Tapia adds that the experiential education MDC students received in D.C. has helped them have a firsthand account of how the political process "works, and that if they don't advocate for their interests, they concede it to somebody who is advocating."
Interestingly enough, the theme for this year's seminar was "Elevating Political Discourse," a theme coined even before some of the most contentious and vitriolic portions of the 2016 presidential race took place. The nature of the political discourse was not lost on MDC journalism student Alejandra Zimmermann, who participated in this year's inauguration academic seminar.
Zimmermann says that one topic of the small group discussions following presentations at The Washington Center was language.
"We talked about how specifically President-elect Trump was using the sort of language that was pretty easy to understand to appeal to a lot of voters," Zimmermann says.
"I believe that that language that he uses is opening gates for other people who might not have been outspoken to speak now and use rhetoric that is very, very offensive and normalizing the rhetoric."
Zimmermann added that rhetoric from Trump that was tinged with negative racial overtones, anti-immigrant overtones, and commentary offensive to Muslims and others "is getting normalized … and I don't think that's how we should move forward. I think there should be some standards when it comes to being in politics or being the president," also mentioning that there was some rhetoric from Hillary Clinton of concern.
When it comes to the inauguration itself today, MDC political science major and inauguration academic seminar participant Krystal Lanier says that Trump should bridge the gap between those who voted for him and "those that did not vote for him."
"I feel that there is still a disconnect between the two. He hasn't really reached out to them. So I think that this is a very crucial moment for him. If he really wants popularity, if he really wants to have the trust and the loyalty and the allegiance from his constituents, I think that he should really focus on what he tells us, what he's asking of us to help him in this process, because it is a hard process."
Tapia adds, "Our experience here confirms that democracy is not a spectator sport."
The students at this year's inauguration academic seminar "are not the future, they are the present. Their time is now. They are of age, and they need to participate a lot more, and they need to consider public service. Because that's how we make a democracy work," says Tapia.
In a statement, MDC President Eduardo Padrón said this year's seminar "provides MDC students with the unique opportunity to experience firsthand our nation's democratic and political process and to witness history in the making. … Since MDC is known as Democracy's College, we are dedicated to preparing students for lifelong civic engagement."
For more information about the 2017 Presidential Inauguration Academic Seminar, visit www.twc.edu/seminars/presidential-inauguration.
David Pluviose can be reached at dpluviose@diverseeducation.com.