A council of university presidents from New Mexico is lobbying to have about $745 million put back in the state's public colleges and universities coffers.
Those higher education institutions have been defunded for the next year as a result of a budget stalemate between Republican Gov. Susana Martinez and the Democratic-controlled legislature. Martinez has vetoed proposals that include $350 million in tax increases to make up for revenue shortfalls.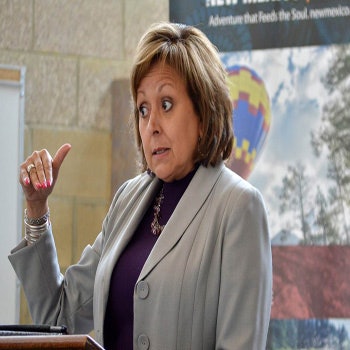 In an op-ed published Sunday in the Albuquerque Journal, the presidents wrote that, without state funding, the tuition each student pays would soar — in some cases by about roughly three times what they're paying now.
The governor's office said Monday that Martinez is optimistic that the issue will be resolved.
"We hope to have a deal soon, and when we do the governor will call a special session that will, among other things, restore funding for our colleges and universities," Press Secretary Mike Lonergan said.
If New Mexico lawmakers wanted evidence of the potential impact on higher ed of a protracted budget standoff, they could look to Illinois, which is in the midst of its 22nd month without state higher ed funding. In addition to struggling to meet routine operational expenses, the institutions have laid off hundreds of employees, ordered mandatory furloughs, and cut academic and athletic programs.
The presidents' council said students are wondering whether they should enroll in a New Mexico college or whether they will be able to finish their degree and graduate. "While we are trying to calm their fears, there is concern many of our state's brightest students will move to other states to pursue their higher education," the presidents wrote.
Contributing: Susan Montoya Bryan of The Associated Press