Even though the Trump Administration gave Dreamers a bit of a reprieve last week through its continuance of DACA — the Obama-era program that lets certain young people brought to the United States illegally as children to remain in the country and work — Dreamers still shouldn't get too comfortable.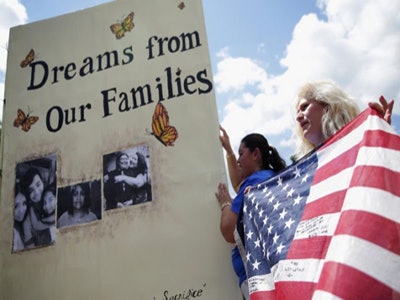 That's the take that several scholars had in the wake of last week's decision by the Department of Homeland Security to let DACA — the Deferred Action for Childhood Arrivals program— stand for the time being.
"On face value this might make Dreamers less anxious," said Dr. Arturo Aldama, associate chair and associate professor of the department of ethnic studies at the University of Colorado Boulder.
However, Aldama said given the "heavy-handed" rhetoric and enforcement practices of the administration and Immigration and Customs Enforcement  (ICE) to arrest people they deem "criminal," he was not sure that DACA's continuance will mean much for DACA students.
"I don't know if this will mean that DACA youth will be less targeted or their legal rights will be respected if they are arrested, or will they be in a protracted ICE holding center as they appeal their arrest?" Aldama said. "Will this mean they will lose jobs? Not do well in their school work and [be] treated as 'criminals' until they can 'prove' their status?"
Attorney General Jeff Sessions has stated — in response to a question about what the U.S. policy is toward DACA students — that the policy is "if people are here unlawfully, they're subject to being deported."
News reports indicate that deportations of Dreamers who lost their DACA status due to criminal behavior have surged under the Trump administration.
Last week, the Department of Homeland Security rescinded Deferred Action for Parents of and Lawful Permanent Residents — or DAPA, a program meant to benefit the parents of Dreamers — but left DACA intact.
"No work permits will be terminated prior to their current expiration dates," DHS said in a statement regarding DACA recipients.
Philip L. Torrey, managing attorney at the Harvard Law School's Immigration and Refugee Clinical Program, raised concerns about the still-tentative nature of DACA.
"I think it's certainly good news for DACA recipients that the administration will be issuing work authorization extensions," Torrey said.
However, Torrey noted that President Donald Trump could alter the DACA policy "at any moment" — which he said shows the need for Congress to act on immigration reform.
"DACA is a Band-Aid for a much larger broken immigration system," Torrey said. "So while the immediate news for DACA recipients is positive, the overall push for reform continues."
Jamaal Abdul-Alim can be reached at jabdul-alim@diverseeducation.com. You can follow him on Twitter @dcwriter360.