Two Virginia universities—Radford and Virginia Tech—have received individual $1 million grants from the Howard Hughes Medical Institute (HHMI) to improve their science, technology, education and mathematics (STEM) programs.
A total of 511 schools across the country applied for the grant, and only 24 were selected.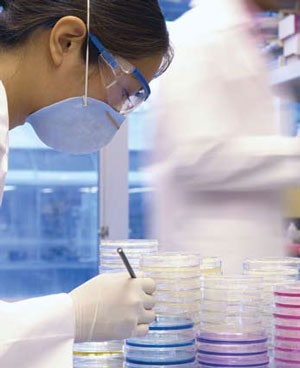 Other universities that were awarded the 2017 HHMI Inclusive Excellence Initiative Grant include Chaminade University of Honolulu, Delaware State University, Oberlin College, San Francisco State University, and University of Northern Colorado. To view the full list, click here.
The initiative was publicly announced more than two years ago and schools applied by submitting pre-proposals. The pre-proposals were then reviewed by science and science education experts.
Of the 91 schools invited to apply, only 89 submitted full proposals, which were then evaluated by other science experts who determined the 24 universities and colleges who won the award.
"Through this initiative, HHMI will support colleges and universities that commit to measurably increasing their infrastructure, resources, and expertise to involve undergraduate students in science, resulting in expanded access to excellence for all students, and especially those who belong to the 'new majority' in American higher education," HHMI said in its public announcement. "Our long-term aim is for successful strategies pioneered by the grantee institutions to serve as models to be adapted and adopted by other institutions,"
"This will give our students in introductory science labs, specifically biology, chemistry and physics, unique learning opportunities so that they'll learn how to solve problems, work together and create new ideas and new knowledge," said Dr. Orion Rogers, dean of the Artis College of Science and Technology at Radford and is the program director for the university's grant research team. "So it is a lot like original research with faculty, but it's a hands-on approach and it's at the introductory science lab level."
Rogers told Diverse that they will also use the grant to hire three post-doctoral fellows per year.
Dr. Jill Sible, associate vice provost for undergraduate education and biological sciences professor at Virginia Tech, is the program director for the university's grant. Her team will consist of 30 to 70 faculty members in over a dozen of Virginia Tech's science departments on campus, and they will use the financial award to collect data to determine why students are leaving the sciences in droves.
"We're taking a hard look at what we do to make sure that all students including students from low-income backgrounds, first generation college students, community college students, get the best of a science education at Virginia Tech," said Sible. "I think it really positions us to ask questions and really figure out how to test out the hypotheses about where students are not succeeding, which populations are maybe struggling," she said.
Sible told Diverse that there has been growing excitement for the project.
"My phone is ringing every day with colleagues on campus calling, not just to congratulate us for the award but wanting to be a part of this effort," she said. "So we're already taking names and gathering interest. I think it's going to be pretty easy to bring the science programs quickly into working on this as a community of practice."
HHMI has been doing grant competitions for colleges and universities since its launch in 1988. This grant, the Inclusive Excellence, is the 17th competition HHMI created.
"We are now working on processing proposals that will eventually result in the second cohort of Inclusive Excellence grantees, to be awarded in the spring of 2018," said David Asai, senior director for science education at HHMI. "All together, we hope to identify as many as 60 colleges and universities [that] will become part of the Inclusive Excellence initiative community of grantees."
Both Rogers and Sible have expressed an interest in helping each other's research teams and STEM departments determine how to improve their retention rates and students' success within those fields of study.
"We will be coming together with all of the grantees at the HHMI later this summer in August," Sible said. "So that will be an opportunity to not only build a larger community, but given that Virginia Tech and Radford are literally only a few miles from each other, I'm very hopeful that we will work together."
Monica Levitan can be reached at mlevitan@diverseeducation.com. You can follow her on Twitter @monlevy_