Administration and alumni officials at Louisiana's Southern University have gone into a major damage control mode in the wake of a series of developments in the last month that have rattled the institution and upset and stirred concern among its base of supporters.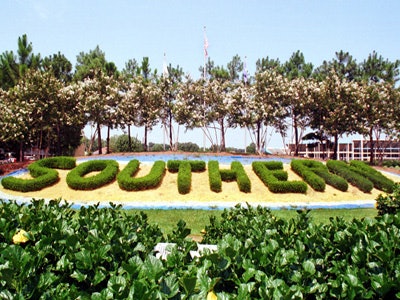 Southern University System administrators are to meet face-to-face this week with Southern Alumni Federation leaders at which firm plans are to be detailed on how to address and resolve the issues confronting the Baton Rouge-based state-controlled institution. The outcome of their actions taken in the coming weeks are likely to significantly impact the university's future, its advocates say. It reported an enrollment last spring slightly of more than 6,000 students.
"Anything less than a strong, clear plan will cause us to hemorrhage students and supporters of this institution," declared Baton Rouge attorney Preston Castille Jr., president of Southern's 4,000 member national alumni association. "Our resolve has been tested in the last several days," Castille said in a letter sent last week to Southern alumni.
Castille's comments, echoing Southern observers, rivals and supporters around the nation, came as the university's celebration of the end of nearly 10 straight years of steady reductions in state allocation's to the five campus institution was abruptly muted last month by a series of rapid-fire developments, some still the topic of considerable rumor, gossip and debate.
On June 20, the university said it had been "made aware" of a "private video" featuring "a member of our staff and rumored to include another that was posted on the Internet without the owner's consent." The university has begun an immediate "investigation" into the "video matter" to "determine if any university policies or procedures had been violated," Southern President D. Ray Belton told the Southern community in a detailed letter issued last Friday.
Rumors abound about who is in the reported video posted on several Internet sites that focus on sexual encounters. The university's investigation may be ongoing.
Meanwhile, people who have longtime relationships with Southern, and say they have seen the video, say faces of known people at the university are visible. They are not offering names, they say, in the event the video may reflect electronic editing that makes it false or misleading. Also, they add, repeating the names would only serve to defame the people shown in a video that was not made for public viewing.
On June 23, Southern announced that its vice chancellor for Student Affairs and Enrollment Management, Dr. Brandon K. Dumas, had been "placed on administrative leave" from his job "pending a complete review of procedures, practices, and activities of the Southern University Baton Rouge Division of Student Affairs and Enrollment Management."
Dumas, a Southern alumnus, started working at the university in 2006 as a student relations coordinator in the office of student admissions. After a few years, he left to do graduate studies, then returned with a doctorate from Mississippi's Jackson State University. He became vice chancellor for student affairs Enrollment Management and was considered an up-and-coming administrator.
Dumas is the son of Walter Dumas, a Baton Rouge attorney who, in 2009, was appointed to a six-year term on the University's Board of Supervisors.
Among the "staff members" referred to in the "private video," according to several people who have seen it, was an employee of the student affairs office who is a Southern graduate now enrolled in the university's graduate school.
Southern officials have refused repeated requests to explain the reasoning behind placing Dumas on leave and declined to identify the "staff" members on the video.
No sooner had the video bombshell been absorbed in university conversation than the Jaguar grounds were shaken again with the announcement the university had been placed on "warning" by the powerful Southern Association of Colleges and Schools Commission on Colleges (SACSCOC).
The Atlanta-based SACSCOC, a higher education peer group accrediting association that sets widely accepted performance standards honored by most colleges and universities across the South, said Southern had failed to meet standards regarding handling of federal funds, faculty staffing of programs, student enrollment and the overall financial viability of the institution.
Southern is already responding to the SACSCOC findings and corrective advice, says Dr. Luria Young, Southern's Interim Executive Vice President for Academic Affairs and Provost.
"We are making substantial progress toward exceeding the expectations of SASCOC and are confident that we will be released from monitoring within the year," says Young.
In addition to the uproar over the sensational video and concern expressed about the SACSCOC decision was news that the university registrar was "reassigned" June 19. The university has declined to comment about the action, calling it a "personnel matter."
Separately, a local Baton Rouge television station included in a newscast last month an interview with a former university registrar who asserted unauthorized activity had been going on in the office. The story or person interviewed did not provide specific details.
For sure, the avalanche of bad news for Southern has shaken the institution.
In a passionate two-page letter to the Southern Community late last Friday, President-Chancellor Belton acknowledged Southern "has seen its fair share of struggles and distractions in recent weeks, and I cannot promise that it is over. I can however, promise that the University will use these challenges as teachable moments."
In a brief telephone interview this weekend, attorney Castille said alumni response to the wave of bad news has been "mixed," with some calling for heads to roll to others declaring their availability to help the university rebound.
The alumni federation meeting with Belton and his cabinet needs to produce "a road map that we can refine with benchmarks and times," said in the telephone interview.
"We all need to stay focused," Castille says. "I don't want folks to lose focus." He says the videotape, which has been seen by a number of alumni, is disturbing.
The university's accreditation with SACSCOC "is of far greater concern to alumni," he says. Overall, he adds, "The stakeholders need to understand how these issues will be addressed."
Castille, who was Southern's Student Government Association president in 1987-88, acknowledges this series of bad news for the university comes at a time when alumni have finally gotten the message they need to step in and boost their contributions to the institution to make up for the cuts in state funding to the school.
Fundraising data gathered by its development office shows a steady increase in alumni giving in recent years.
"I hope that continues," says Castille. "It may be too early to tell. It depends on how the university responds," he says. "It should develop a very clear strategy for all stakeholders to understand how these issues will be addressed. It's all achievable and needs to be done and articulated."