Despite fears that international students might stay away from the U.S. because of President Donald Trump's proposed travel ban, which has been partially permitted pending Supreme Court review, that doesn't appear to be happening this fall, a new survey has found.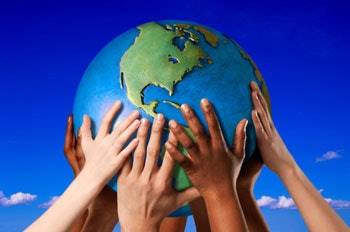 The survey report — titled "Shifting Tides? Understanding International Student Yield for Fall 2017" — was produced by the Institute of International Education's Center for Academic Mobility Research and Impact. It found that interest in studying in the U.S. among international students "remains steady overall" and found "no single trend evident across the broad range of U.S. colleges and universities."
The report states that modest drops in the yield at some institutions may be offset by steady or increased yield at other institutions. The term "yield" means the enrollment rates of admitted students. The yield is generally considered an insightful way for colleges and universities to gauge the effectiveness of their admissions recruitment and enrollment processes, according to the report.
"Overall, international undergraduate yield appears to have dipped slightly from 26 to 24 percent from Fall 2016 to Fall 2017," the report states. It states that the 2 percentage point decline is "comparable to shifts in the domestic student yield reported by institutional respondents, which fell from 30 to 28 percent over the same time period."
The report provides a historical context for contemporary yield figures.
"Among domestic students, today's yield is lower than it was fifteen years ago as students apply and are accepted to more institutions than in previous years," the report states. "While there is no definitive national data on the factors impacting international student yield, it may be the case that international student yield trends are driven by similar application patterns as domestic students."
Despite the relatively steady rate at which international students plan to study in the US this fall, officials at IIE say there is an ongoing need to remain watchful for any fallout from President Trump's executive order that bars foreign nationals from six Muslim majority countries unless they have a bona fide relationship with a person or entity in the United States.
While the path to U.S. study "appears to remain open for all international students to enter higher education institutions this fall," broad concerns remain, the report states, due to uncertainty about the outcome of the Supreme Court's review of the travel ban, which is scheduled for October, as well as the "extreme vetting" of visa applicants.
"This uncertainty raises valid concerns as to whether students from the Middle East may be deterred from U.S. study," the report states.
The survey found that 46 percent of colleges and universities in the survey reported that securing and maintaining a visa was a top concern for international students. A similar amount, 41 percent, reported concerns about students "feeling welcome in the United States."
IIE president Allan Goodman said the intellectual contributions and diverse cultural perspectives that international students bring to U.S. campuses are "extremely valuable."
"Educators are letting students know they are welcome here and working to prepare them for a successful academic experience in the United States," Goodman said. "It is important that we all continue to address students' needs and concerns in the coming year."
Jamaal Abdul-Alim can be reached at jabdul-alim@diverseeducation.com. You can also follow him on Twitter @dcwriter360.