In the midst of a financial emergency, Mills College will lay off faculty and restructure academic programs in an effort to right the ship. Earlier this year, Mills faced a growing deficit of more than $9 million out of an annual operating budget of $57 million.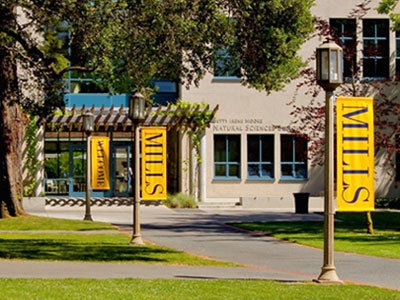 The institution's board of trustees approved a revised financial stabilization plan in a closed meeting on June 26. Among a broader planned staff reduction, the college will lay off five tenured faculty members. According to the Mills website, it employs a total of about 200 full- and part-time faculty.
"This is an extraordinary moment for us," Mills College President Elizabeth L. Hillman said in a phone interview on Friday afternoon.
Hillman joined the college in July 2016. A former U.S. Air Force officer, Hillman was the provost of UC Hastings Law School before coming to Mills.
The Oakland, California-based liberal arts institution was established in 1852 as an all-women's school, and has stayed true to that original mission. Students resisted efforts to make the school co-educational in the 1990s. Today it serves approximately 1345 undergraduate and graduate students.
Compared to many of its liberal arts peers, Mills does well in terms of its racial and socio-economic diversity. The majority of Mills students are minorities and half are Pell-eligible. Mills also made its mark as a school known for its inclusivity to transgender students.
In recent years, the school has seen its enrollment numbers decline. While its endowment still sits at approximately $177 million, the growing deficit raised alarm bells for the school's leadership. In response, the board of trustees charged the school with developing a plan that will eliminate the deficit altogether over the course of the next three years.
According to Hillman, the decision to lay off tenured faculty was not one the college came to easily. She stressed that it is expected to be a one-time occurrence. Faculty, however, said on Friday that the layoffs call into question the legitimacy of tenure at the institution.
"There's effectively no job security," Dr. Roger Sparks, economics professor and chair of the Faculty Executive Committee, said on Friday. "There's no content to the promise that you have tenure and you can only be fired for moral turpitude or incompetence."
Sparks, who joined the faculty in the fall of 1989, said that he could not recall a comparable moment during his time at the institution.
"It's quite a time. I started at Mills in the year of the strike, when the board of trustees decided to go co-ed," Sparks said. "That was a pretty big deal, but this is a much bigger deal in the sense that tenure is being threatened."
In addition to the layoffs, an undefined number of faculty members are reportedly negotiating retirement plans with the institution. Hillman said that negotiations were still ongoing, and as a result, she could not comment directly on the matter on Friday afternoon.
Mills will eliminate the following programs: a minor in creative writing in Spanish, a Latin American Studies major and minor, a Government minor, a Philosophy major, a Physic minor, a masters in mathematics and an MFA in Translation. A number of other programs are slated to be revised.
The programs slated for elimination were turning around very low or net negative revenue, Hillman said, and had low student enrollment. No students had enrolled in the physics minor in fiscal year 2016 and 2017, for instance.
Philosophy still will be offered at the college as a minor and also will be rolled into a new major in Global Humanities and Critical Thought. The program also had low enrollment — three students enrolled in 2016-2017.
Philosophy professor and department chair Dr. Marc Joseph said that the loss of Mills' philosophy department will have a particularly profound impact on the institution as a women's school. Women are historically underrepresented in philosophy departments and as philosophy majors.
"Without a robust philosophy program Mills student will miss out on the most profound works of human culture, and Mills students won't have the chance to find their voices in an on-going conversations that stretches back two millennia," Joseph wrote in an email on Friday afternoon. "This is an especially terrible blow to Mills as a women's college, because for most of those millennia, women were excluded from the conversation."
Joseph was one of the five tenured faculty members laid off under the revised financial plan.
"Tenure means a number of things, including academic freedom, faculty control over the curriculum, and job security," Joseph said. "I started at Mills 18 years ago, and I had planned to be there for another 15 to 20 years. I loved my job, and I was good at it."
"All I know for now is that the future is uncertain," Joseph concluded.
Hillman said that the revised financial plan will immediately bring the deficit down to $5 million. By next year, it will have reduced the deficit to $2 million, and will bring the budget into balance by FY20. As a result, Hillman expects that the college will be back on sound financial footing in three years.
The revised financial plan proposed several additional actions to raise revenue, including an alliance with the Peralta Community Colleges, the expansion of the UC Berkeley Masters in Management and MBA program, the development of an Executive Education Program and recruiting full-time athletic coaches.
"The collaboration between Mills and other institutions has always been there, but we're looking to formalize those," Hillman said.
Mills already has a relationship with the four Peralta colleges and accepts transfer students from community colleges across the state of California and the nation, Hillman said. The school plans to build on those existing relationships and will consider developing a dual enrollment program with Peralta in the months and years to come.
In addition, Mills offers cross-registration options with a number of local institutions. The school plans to hone in on it relationship with UC Berkeley, which currently has excess student demand for course offerings in its management and MBA programs.
"The better we can fit together with UC Berkeley and Peralta Colleges, the better we serve our students' interests and our own mission of being able to serve as many students as possible," Hillman said.
In terms of building up a full-time coaching staff, Hillman said that Mills students who participate in athletics tend to do well academically, benefiting from the built-in support network of their team and coaches. Full-time coaches could also provide the same sort of student recruitment efforts that other colleges and universities across the country already benefit from.
Staff writer Catherine Morris can be reached at [email protected].