After hearing that the Trump Administration is taking action to decrease students' rights and protections, 33 veterans and military service organizations have been voicing their concerns of how badly these actions will harm veterans and their families.
Included among the organizations are Veterans for Common Sense, Student Veterans of America, The American Legion and Blue Star Families. Individual military veterans are also weighing in on the matter.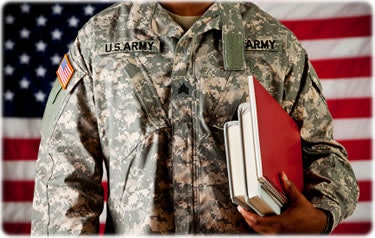 "It is not often that the Education Department draws the ire of veterans and military service leaders, but it happened this week," Carrie Wofford, president of the Veterans Education Success, told Diverse via email.
The veterans and military service organizations previously sent the U.S. Department of Education a public comment, calling on it to protect defrauded student veterans through the Borrower Defense and Gainful Employment regulations, which offer student loan forgiveness for students who have been defrauded.
The public comment stated, in part, "As you undertake a revision, please ensure that defrauded service members, veterans, and their dependents, families, and survivors receive loan forgiveness, and please ensure that the many pending applications at the Education Department are quickly granted relief under the current regulations. Please also maintain defrauded students' access to the courts and their right to financially sound colleges through the financial responsibility triggers and warnings."
The veterans organizations also have expressed concerns regarding the 90/10 loophole in the Higher Education Act. The act stipulates that up to 90 percent of a school's money can come from the pool of federal dollars, but 10 percent of the school's money must come from private dollars. Congress did not count veterans and military education benefits as federal money, creating a loophole that some for-profit colleges have been exploiting by aggressively recruiting veterans to collect the GI Bill Benefits and Defense Department Tuition Assistance funds and the other 10 percent of funding from the student's private funds, according to the Veterans Education Success.
According to a 2014 report by the U.S. Senate, eight of the 10 schools receiving the most GI Bill funds were for-profit colleges, and seven of those eight were under law enforcement action for deceiving and defrauding students.
"Tens of thousands of veterans each year are targeted by fraudulent predatory colleges and lied to about every aspect of the education from the true cost and how much the GI Bill will cover, the accreditation, whether the students can transfer their credits to a legitimate college or go to a graduate program, even what program they're enrolled in, and — a huge problem — the type of job and salary they're eligible for and whether they'll get career help," Wofford said.
Between 39 and 57 percent of the programs offered by four of the companies receiving the most Post-9/11 GI Bill benefits would fail to meet the proposed gainful employment rule, suggesting that the students who attend these institutions do not earn enough to pay back the debt they take on, the report stated.
"Veterans and military service organizations hope very strongly that the Trump Administration will heed their concerns and understand how veterans, service members, and their families are singled out for abuse and fraud by predatory companies more than other students are," Wofford said. "Veterans and service members have a target on their backs from predatory college companies, and the government must do more to stand up to these bad actors and stand up for veterans."
Lt. Col. Robert (Brad) Brown, a professor of military science at Texas A&M University's Corps of Cadets told Diverse that some of the cadets benefit from the Post-9/11 GI Bill, but it is a small percentage compared to those on ROTC scholarship.
"Many who are not on scholarship leave school with substantial debt, including loans they use to finance their lifestyle — not just tuition and fees," Brown said via email. "The easy availability of federal and private loans have negative second order effects at schools that are public and private non-profit — not just the most egregious examples of dubious for profit programs."
Additional efforts by the veteran's organizations include attending testifying at public hearings in Washington, D.C., and Dallas last week.
Will Hubbard, vice president of government affairs of Student Veterans of America, testified in D.C. on July 10. He, in turn, asked whether "the Department [is] interested in protecting students, or is it interested in protecting companies?"
"Our emphasis [at the Department of Education hearings last week] was to make sure people heard stories from veterans who have been directly affected by school closures, and predatory schools," said Bethany Keirans, assistant director for policy and government affairs of Vietnam Veterans of America. "That they are people, with spouses, children, and bills to pay, and that they value their education more than the Education Department has valued them."
Veterans leaders sent a meeting request to Education Secretary Betsy DeVos and haven't received a response. DeVos' department also passed on an opportunity to hear from the Yale Law School Veterans Legal Clinic when they were in the District to brief federal agencies on their findings about defrauded veterans, Wofford said.
"The VA, Defense Department, Federal Trade Commission, and Congressional Committees were all eager to hear Yale Law School's findings and eager to help veterans, but the Education Department refused to even hear the information," Wofford said.
The veterans and military organizations are optimistic that the Trump Administration have listened to their pleas and hope they will take into account how repealing the Borrower's Defense and Gainful Employment laws will negatively affect veterans and their families across the country.
Kierans told Diverse the groups will persevere. "We will continue to demand their (Trump Administration's) attention to this issue until it has become clear to the entire administration that veterans have been disproportionately affected due to their inability to recoup lost educational benefits after school closure."