WASHINGTON — Two U.S. Senators called on President Donald J. Trump and their fellow lawmakers Thursday to support their bipartisan effort to win passage of the Dream Act.
The Senators introduced the bill anew Thursday after 16 years of stymied attempts to pass the legislation that would grant legal status to those brought to the United States illegally as children.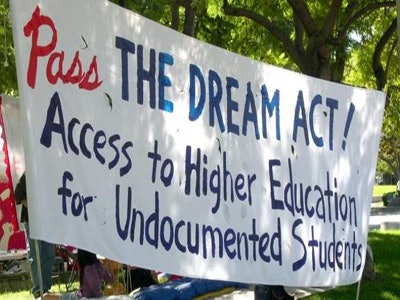 "We don't believe that young people should be held responsible for the errors or illegal actions of their parents," U.S. Sen. Dick Durbin (D-Illinois), who first introduced the Dream Act in 2001, said Thursday during a press conference at the U.S. Capitol.
Durbin was joined by U.S. Sen. Lindsey Graham (R-South Carolina), who said President Trump could easily unite the Republican Party and opponents of illegal immigration to support the Dream Act.
The Dream Act would grant lawful permanent residence and ultimately citizenship to young people brought to the U.S. as children and who have been here at least four years and have not been convicted of a felony. They must also have graduated from high school or obtained a GED, entered college or the military, work for three years, and pay a "reasonable" application fee.
"Wouldn't it be ironic if the man who started his campaign talking about illegal immigration in a very tough way would be the man who started the country on the path to solve the problem?" Graham said in reference to Trump. "This problem will not fix itself."
Graham said he appreciates President Trump's desire to boot "bad hombres" from the country but said it's wrong to leave Dreamers in limbo when many of them came "out of the shadows" and identified themselves at the behest of the federal government.
Graham was referring to the 800,000 or so young people who have gotten protection through the Deferred Action for Childhood Arrivals program, or DACA, a 2012 Obama administration program meant to provide temporary relief from deportation and a work permit to immigrant youth brought to the U.S. illegally as children.
A coalition of Republican state attorneys general has pressed the Trump administration to get rid of DACA or face a lawsuit that challenges its legality. The attorneys general gave the Trump administration until Sept. 5 to decide.
Graham and Durbin won praise among some in higher education for their efforts to provide a pathway to citizenship for Dreamers, many of whom are college students.
Peter McPherson, president of the Association of Public and Land-grant Universities, or APLU, said in a statement that the Dream act would extract Dreamers from a "precarious and uncertain position" that they wound up in through no fault of their own.
"The DREAM Act would allow these young people to continue their studies and go on to contribute to our economy as members of the workforce without the constant fear of revocation of work authorization and deportation," McPherson said. "To advance our nation's values and interests and in fairness to undocumented students who were brought to the United States at an early age, the DREAM Act is the right policy."
The bill has been introduced in every two-year session of Congress since 2001 with the exception of the 113th Congress, when it was included in comprehensive immigration reform, and the 114th Congress. The current Congress is the 115th Congress. The latest version might be thought of as Dream Act 7.0.
The bill does not address the issue of federal financial aid for Dreamers, which is currently prohibited. However, a representative for Durbin said he "has long believed that Dreamers should be eligible for federal financial aid."
The current Dream Act would also repeal a section of the Illegal Immigration Reform and Immigrant Responsibility Act of 1996 that penalizes states that grant in-state tuition to undocumented students on the basis of residency.
Philip L. Torey, a law lecturer and managing attorney of the Harvard Immigration and Refugee Clinical Program, noted that whatever happens with the Dream act in Congress, it faces a roadblock at the White House.
"Providing a pathway to citizenship to these young people who have already come forward should be a bipartisan issue and should garner bipartisan support. It's incredibly important," Torey said. "Unfortunately, it appears that the President has already come out in opposition to the bill."
Indeed, news reports indicate that a White House official has stated that President Trump will not support the Dream Act.
"The president campaigned on enforcement first, and that is where his focus is," the official said, according to a news report from McClatchy.
Efforts by Diverse to obtain a comment from the White House were not successful.
Jamaal Abdul-Alim can be reached at jabdul-alim@diverseeducation.com. You can also follow him on Twitter @dcwriter360.