Florida Agricultural and Mechanical University (FAMU) has joined the list of historically Black colleges that have been represented on the big screen. The highly successful film, "Girls Trip," brought in over $30 million in its opening weekend, and stars Queen Latifah, Jada Pinkett Smith, Regina Hall and Tiffany Haddish.
Produced by FAMU alumnus Will Packer, the film essentially focuses on four women who became friends in college and have since reunited for a "girls trip" to Essence Festival in New Orleans, Louisiana.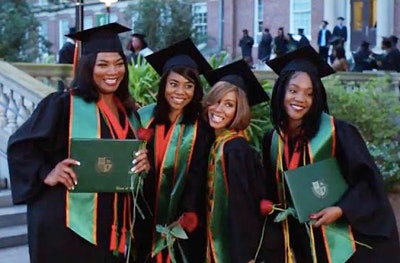 The Tallahassee school was founded in 1887, and plays a key role in this film as the location where the main characters develop a friendship. Even though the film is fictional, it presents its viewers with the reality of the bonds and connections that take place among students on HBCU campuses.
Carmen Cummings, a 1984 graduate of FAMU, says, "There was a message in there about friendship and the importance of friendship, and trust and how a lot of the time we establish, what we may not realize, are lifelong friendships at these institutions."
The film has attracted box office crowds since its premiere, a significant number of Rattlers among them– alumni and students.
Angelique Fullwood, a senior at FAMU, viewed the movie at Governor's Square Mall near the college's campus. She was taken by surprise when she saw that her school was a part of the film's storyline.
"I had no idea and it was just really cool to see," says Fullwood. "Everyone in the theater screamed and cheered, and we started (Rattler) hissing and doing our Rattler fingers."
She describes the movie as, "One of those films that made you feel good and laugh. It was the funniest movies that came out this year, one of the funniest movies that we've seen in a long time." She says, "It just us makes us feel extra proud that such spectacular work came from a Rattler."
In addition to coming from a family of HBCU graduates, many of whom attended FAMU, Fullwood, attributes the 1990s television show, A Different World, and 1988 film, School Daze, with helping her make a decision to attend an HBCU.
The broadcast journalism major says that that positive, diverse representations of HBCUs in television and film will bring even more recognition and attention to these schools, because they are integral parts of the Black community.
"I think that the more that our schools are in the media and the more that people see the greatness that can come out of our schools, I think it definitely would definitely move people to decide to visit and decide to come to our school," she says.
Cummings, who is also the Senior Executive Director of University Engagement and Alumni Affairs, was excited to see Packer's latest film and was even happier to witness how the producer incorporated the school into the story.
She viewed the film during its opening weekend and was very pleased with the inclusion of her alma mater's commencement regalia that she noticed the characters wore in one of the film's scenes.
She also hopes that the success of the film combined with the strong representation of FAMU will be inspiring and leave a lasting impact on current and future students at HBCUs.
"When they see this kind of success and they see the fact that [Packer] still remembers from whence he came, and remembers so well, . . . that speaks volumes out of this world," she said.