Hurricane Harvey struck the Gulf Coast of Texas on Friday as a Category 4 storm. The Associated Press reported on Sunday that some areas have gotten 50 inches of rain. Universities across Houston, Galveston, and Corpus Christi have kept their students and staff updated regarding operating status and the physical condition of their campuses.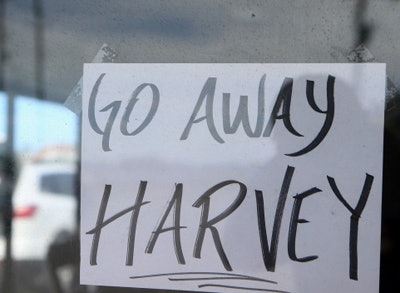 In Corpus Christi, one of the cities hit hardest by the initial storm, Texas A&M University at Corpus Christi used Twitter to inform its students, faculty, and staff on Wednesday about the mandatory evacuation of their on-campus residences.
The university postponed the students' move-in days, which were scheduled for Thursday and Friday, until "at least Sunday 8/27, at noon." Texas A&M Corpus Christi also uploaded photos of the aftermath.
On Saturday, Texas A&M Corpus Christi's Twitter account posted, "Initial damage assessments to campus are promising, plans for reopening are underway."
About 250 miles Northeast of Corpus Christi, another coastal university Texas A&M Galveston evacuated its students by noon on Friday. The university announced on its website that move-in would continue on August 31 and that classes would resume on September 4.
Fifty miles inland, Rice University's Dean of Undergraduates, John Hutchinson, published a letter expressing concern for the city of Houston, but he reassured students and parents that the campus is in decent condition, despite minor leaks and some collapsed trees.
Texas Southern University in Houston announced on Saturday morning that all the weekend's campus events would be cancelled. Later that evening, its official Twitter page posted a photo of a group of students watching the MacGregor-Mayweather fight in a campus building.
Institutions in areas outside Hurricane Harvey's path, like the University of North Texas, have reached out to the affected communities. In a press release on Saturday, the university announced that it would waive application fees and automatically accept prospective students who have been impacted by the storm. The release quotes its president as saying, "Our university is a community of great compassion, and I know that we will support the impacted individuals in every way we can."
National organizations like the Association of Community College Trustees, or ACCT, published statements lamenting the flooding in Texas. "The association encourages anyone with means, no matter how small, to bear in mind those less fortunate ​and to help in any way you can," wrote J. Noah Brown, president of the ACCT.
All the Southeast Texas colleges mentioned above in addition to Del Mar College in Corpus Christi, Galveston College, the University of Houston, and all 19 campuses in the Houston Community College system will be closed on Monday, August 28.