Following a national presidential search, a Pennsylvania-based university has selected a prominent international and social justice scholar to lead the institution.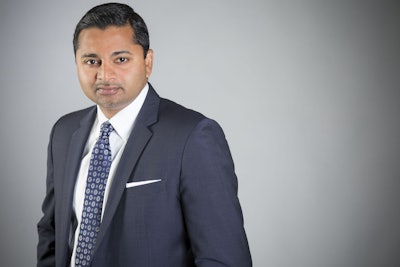 Arcadia University's Board of Trustees announced that Dr. Ajay Nair has been named the 22nd president of the university. He will be the first person of color to lead the private, liberal arts university in its 164-year history.
"It's a blessing to return home to the Philadelphia area to lead an institution with the potential to transform delivery of a liberal arts education to produce work-ready and life-ready students," Nair said. "I look forward to working with our stakeholders to build a compelling vision for Arcadia that creates best practices in higher education."
An advocate for multiculturalism in higher education, Nair currently serves as senior vice president and dean of campus life at Emory University. Since joining Emory in 2012, he has been strategic in supporting the nearly 15,000 undergraduate and graduate students at the institution.
Nair—a Philadelphia native who grew up in nearby Broomall—is a nationally recognized expert in student affairs issues and a prominent social justice, race and ethnicity scholar. He will join a minority of Asian American college and university presidents across the nation and said that it is "humbling to be in this position."
"The underrepresentation of Asian American university leaders is problematic, but I hope I can help enhance a sense of community among these colleagues and create pipelines for the next generation of leaders," Nair told Diverse.
In his current role at Emory, he provides financial oversight for an annual budget of more than $79 million, and oversees more than 20 departments including athletics, the career center and international student programs.
Nair's leadership was also instrumental in putting Emory at the forefront of institutions tackling racial and social justice. He helped launch the Emory Commission on Racial and Social Justice (CRSJ) to make the campus community nurturing for all students. He also served on a variety of university and civic boards and as the director of the Division for Equity, Inclusion and Social Justice for NASPA Student Affairs Administrators in Higher Education.
The scholar's research interests supplement his diversity and inclusion work as a higher education administrator. Nair co-edited the book, Desi Rap: Hip-Hop in South Asian America that discusses the complexities of second-generation South Asian American identity. He said that another book project will explore the state of multiculturalism in higher education.
Before he arrived at Emory, Nair held administrative and faculty positions at the University of Pennsylvania, Columbia University, Penn State University, the University of Virginia and the World Language Institute in Kwangju, South Korea.
Nair said that one of the things that attracted him to Arcadia was examining how the  university has transformed itself over the past 164 years as a liberal arts institution. He said that he intends to leverage Arcadia's geographical placement near Philadelphia into domestic and global partnerships and opportunities that will build connections through not only scholarship, but also community service, student development and business development.
Keeping in mind the values that have sustained Arcadia, Nair said he wants to outline a vision that will also propel the university forward in the current higher education climate.
"When you think about its early history as Beaver College, offering educational opportunities to women, to being a pioneer in study abroad for the past 70 years, Arcadia has always been bold and forward-thinking," he said. "This is what we need to build on, and we must continue to be bold and forward-thinking through academic, international, extracurricular, and campus opportunities."
Nair said that he is excited to start engaging with students. "It is the students, ultimately, who define a university," he said. "To see how they use their scholarship and co-curricular activities to not only advance their lives but to impact their communities is inspiring. To have the opportunity to make a difference in their lives and to see the difference they make on the world is something that sustains my energy and passion for this profession."
In recent years, leadership at Arcadia has been unsteady. Former president Dr. Nicolette Christensen left last spring after less than four years on the job. In August 2016, 10 other board of trustee members either resigned or left after term expirations, leaving fissures in leadership, according to The Philadelphia Inquirer.
Arcadia officials hope that Nair's two decades of service in higher education as a faculty member, student affairs administrator and academic administrator will bring stability to the university. Arcadia alumni and trustee members have already welcomed the news of Nair's appointment.
"Dr. Nair is a proven leader who has had success at several of the top universities in the country," said Alison Madsen, chair of the board of trustees and an Arcadia alumna. "As an international scholar, social justice practitioner, and first-generation college student, he demonstrates a distinct understanding of the complex issues currently facing universities and their students."
Dr. Joycellen "Jey" Auritt, chair of the presidential search committee and vice chair of the Arcadia board of trustees, echoed the sentiment adding that Nair "has the passion and expertise that our search committee sought and that our university needs, and we look forward to working alongside him."
Social media has been abuzz with news of Nair's upcoming presidency. He is on social media and regularly engages with students and others in the education community.
Nair earned his Ph.D. and bachelor's degree from Pennsylvania State University. He will assume his role as president on April 2, 2018.
Tiffany Pennamon can be reached at tpennamon@diverseeducation.com. You can follow her on Twitter @tiffanypennamon.