Thanks to a recent donation from Alfred Street Baptist Church in Alexandria, Virginia, 34 Howard students with financial need had their debts covered.
Howard selected full-time students with a GPA of 2.0 or above who displayed significant financial need, with balances from $100 to over $3,000, said Howard's vice president of communications Crystal Brown.
During a 30-day fast that included limiting consumption of food, money and social media, Alfred Street Baptist Church members were asked to refrain from making unnecessary purchases and consider donating the money they saved at the end of the month to a charitable cause, according to The Washington Post.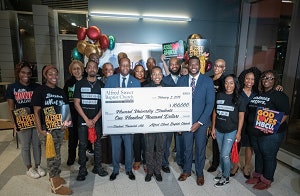 Participants of the fast had no prior knowledge of the cause that would benefit from their generosity, but Alfred Street church leaders promised to select a deserving recipient. The Rev. Marc Lavarin said he first thought of the idea of donating to Howard during prayer.
"I thought, 'What better way to celebrate Black History Month than investing in the young, black heroes of HBCUs?' " Lavarin said.
Over 4,000 members contributed to the $100,000 donation given to cover the debts of the 34 Howard seniors. The students received an email from the Office of Financial Aid on Jan. 31 saying a "special financial aid opportunity" awaited them. The 34 students had to visit the Interdisciplinary Research Building on campus to claim their prize.
The students arrived to the building and were met by studio lights, a camera crew, Alfred Street Baptist ministers and staff who surprised the seniors and made a video of their reactions to show the congregation.
"Now, I can focus on school, my goal is to earn a 4.0 for this semester, and with this gift I can now put all my energy toward that goal and not worry about paying bills to graduate," said 22-year-old Howard senior Perrye Rollins, who received $8,000 from the church.