The University of New Mexico (UNM) will begin offering free tuition and fees for first-year students whose families earn less than $50,000 per year, starting this coming fall, reported KRQE news.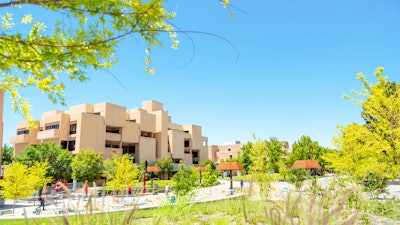 The program comes after New Mexico Governor Michelle Lujan Grisham's planned Opportunity Scholarship – which aimed to pay the tuition at public universities for all the state's students – significantly shrunk at the end of the 2020 legislative session. Now, the Opportunity Scholarship pays for "the remaining tuition and fee balance for lottery-scholarship students at two-year programs."
So, in response, UNM created its own program, which it calls the "Lobo First-Year Promise." According to UNM's Fall 2019 attendance, there were roughly 2,500 freshmen. They expect half of their freshmen to be eligible for this 'Promise.'
With those numbers and current tuition and fees, KRQE estimated that the scholarship could cost $9,445,000, a sum the university says it'll cover with additional scholarship money from state and federal funding as well as grants and other scholarships.
"Regardless of what the cost is, UNM has made the commitment we're going to fund this," said UNM's vice president of enrollment Dan Garcia.
Following the 2020-21 school year, UNM says it will re-evaluate the program to see whether it's a viable plan for the following freshmen class.