Brown University President Dr. Christina H. Paxson received the 2023 TIAA Institute Hesburgh Award for Leadership Excellence.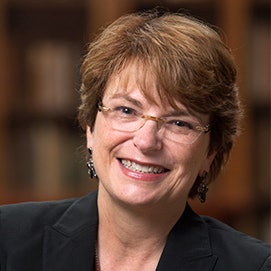 The award – sponsored by the TIAA Institute, administered by the American Council on Education (ACE) – commends current college or university presidents or chancellors for outstanding institutional leadership and broad impact on higher education and society. The award's namesake, Rev. Theodore M. Hesburgh, was a former University of Notre Dame president, a longtime TIAA board member, and a civil rights leader.
"I am honored to receive this award celebrating the legacy of Father Hesburgh and his commitment to education and service," Paxson said. "This award is reflective of Brown's mission to make a positive impact on the community, the nation and the world by advancing knowledge and understanding and preparing students to address the world's most pressing challenges."
Paxson – a globally renowned economist and public health expert – was honored for leadership of efforts bolstering health, education, and economic well-being, diverse recruitment, curriculums, and research about race, ethnicity, inequality, and justice. She has also led efforts for The Brown Promise, which replaces loans in financial aid packages with grants that do not have to be repaid.
"The TIAA Institute is proud to recognize President Paxon's strategic vision of ongoing transformation not only for Brown University, but for the economic development of the surrounding communities," said Surya Kolluri, head of the TIAA Institute. "She is a passionate advocate for equity and driver of positive change who truly embodies the Hesburgh spirit."
Paxson previously was vice president of the American Economic Association, chair of the board of directors for the Association of American Universities, and chair of the board of directors of the Federal Reserve Bank of Boston. She was recently elected to the board of directors for the American Council of Education (ACE).