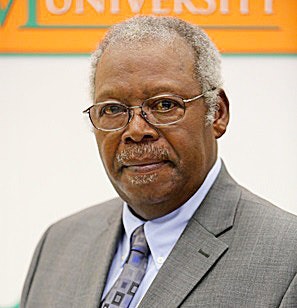 With the aim of getting its nationally-recognized marching band back into action, Florida A&M University (FAMU) has named Dr. Sylvester Young, a FAMU graduate and former member of the Marching 100 band, the school's new director of marching and pep bands. FAMU interim president Larry Robinson announced the appointment during a news conference Tuesday.
Grappling with the suspension of the Marching 100 band following the late 2011 hazing death of former drum major Robert Champion, Robinson indicated during the news conference that with the selection of a new band director he is nearly ready to reactivate the band. Young, 66, assumes the FAMU director of marching and pep bands position on June 14 and will annually earn $105,000.
"Dr. Young is a talented and experienced administrator, musician and scholar whom I believe will provide strong discipline, leadership and vision for the Marching '100'," Robinson said.
"Dr. Young has had a stellar career as director of bands at several universities, and I am looking forward to Young continuing the great traditions of the Marching '100' when we deem it ready to return to the field," he added.
Dr. Rodner Wright, the FAMU interim provost and vice president for academic affairs, said the search committee, which he chaired, looked for "someone who has the respect of his peers, the experience and the passion to continue the practices that have made the Marching '100' a household name."
"We are pleased with our choice," Wright noted during the news conference.
In his new role at FAMU, Young will report to the chair of the Department of Music and will oversee the marching and pep bands. He will also direct the summer high school band camp and serve as the liaison between the Athletic Department, the Division of Student Affairs and the Department of Music, according to Wright.
"It's great to be back in Tallahassee. … Everything for me started here, and it's amazing that in 1965 I was a little freshman, pretty good trombone player, going after a dream," Young said.
Young, who earned an undergraduate degree in music education from FAMU in 1969, will return to his alma mater following more than two decades at Ohio University where he served as director of bands for six years. At Ohio University, Young had been an associate professor of music where he taught courses in marching band techniques, jazz ensemble methods, computer skills for musicians and instrumentation. Prior to his tenure at Ohio University, Young had been director of bands at Hampton University from 1982 to 1990 and at Lincoln University from 1979 to 1982.
After earning an undergraduate music education degree at FAMU in 1969, Young went on to earn a master's degree in education from Bowling Green State University and a Ph.D. in music education from the University of Missouri-Columbia.
"What I want to do is to bring back all of those experiences that I had in developing my career back here for my students," he said. "I want every student that participates in this band to have the same positive experience that I had and to leave here with the same aspirations that I left with."
Amid the consequences for FAMU resulting from Champion's death, long-time band director Julian White retired and university president James Ammons resigned. When questioned during the news conference about the FAMU band culture, which previously tolerated hazing, Young pledged to keep anti-hazing policies vigorously enforced.
"There's no room for that type of activity. … I'm really excited about the system that FAMU has put in place to deal with [hazing]," he said.
"Other schools are watching us closely. And we can actually come out of this being an icon for all other universities," Young proclaimed.