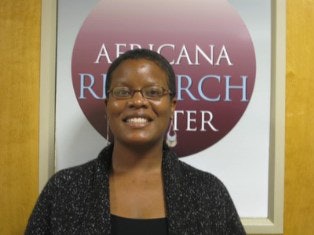 Dr. Ersula Ore, a Black rising-star professor at Arizona State University, had wrapped up her summer class for the evening last month and was heading home, when nearby construction had forced her and several other pedestrians to jaywalk across a busy thoroughfare near campus.
But before Ore could even make her way to the other side of the street last month, she was stopped by Officer Stewart Ferrin, an armed ASU police officer, who demanded to see her photo identification.
Ore, an expert in critical race theory who has held a tenure-track professor in the English department at ASU since 2011, questioned the officer over why he had singled her out over the others, said her Phoenix-based attorney Alane Roby, who added that Ore asked the officer not to speak to her in a disrespectful tone.
But several seconds later, the officer had body slammed Ore against the patrol car and wrestled her to the ground where she was handcuffed and hauled away to face a battery of felony and misdemeanor charges.
The violent altercation caught the attention of several bystanders who quickly dialed 911 to report that Ferrin was being "way too aggressive" with the professor.
Roby said that while Ore was being manhandled by Ferrin, and another officer, her dress was hiked up and her body was fully exposed. She said that her client acted in self-defense when she kicked Ferrin in the left shin after the handcuffs were placed on her.
"Her dress was up and the officer was reaching toward her anatomy and after what had already happened, she felt uncomfortable with his hands going there," she said in an interview with Diverse. "How does a simply act of jaywalking turn into felony action? It is our hope that the charges are dismissed outright."
The incident, caught on video from the police officers dashboard camera, has now gone viral, as Ore prepares to head into court this week to answer the charges. But it also raises some serious questions about whether race played any role in the officer's decision to stop Ore in the first place.
The encounter has also reignited an age-old discussion among academics about how minorities — including minority faculty — are policed by campus officers who are charged with safeguarding the university and its surrounding areas.
Over the weekend, thousands of college professors and administrators from across the country have signed a petition calling on the local prosecutor to drop the charges against Ore. Some of the professor's mentors and friends have also set up a defense fund designed to help shoulder her legal costs.
"As Friends & Supporters of Dr. Ersula Ore we are concerned," read a statement that was posted on the website http://www.erslegaldefense.com. "The timing of this incident was unfortunate. But, despite her busy academic schedule, Ersula has committed herself, with the support of family, colleagues, community leaders and a robust network of friends, to fighting these charges.
"As Ersula is still at the early stages of her career and in academe, her financial resources are limited. To ensure that Ersula's name is cleared and the charges are dismissed, she intends to mount an aggressive, yet appropriate legal defense. For this reason, we are asking each of you, as a network of individuals who have supported Ersula at various stages of her life and professional career, to provide whatever monetary support you can. Any amount will help."
The Arizona Critical Ethnic Studies, a network of college and university educators and independent scholars throughout Arizona, have called for an investigation into Ore's arrest, as have several civil rights organizations, including the Arizona chapter of National Action Network — the group headed by Rev. Al Sharpton.
But ASU officials, who reviewed the video footage, continue to stand by their officers.
"ASU authorities have reviewed the circumstances surrounding the arrest and have found no evidence of inappropriate actions by the ASUPD officers involved. Should such evidence be discovered, an additional, thorough inquiry will be conducted and appropriate actions taken," the university said in a statement. "Because the underlying criminal charges are pending, there is not much more we can say at this time. The Maricopa County Attorney's Office has reviewed all available evidence, including the police report, witness statements, and audio and video recordings of the incident, and decided to press criminal charges of assaulting a police officer, resisting arrest, refusing to provide identification when requested to do so by an officer, and obstructing a highway or public thoroughfare."
Video of the incident can be seen here: https://www.youtube.com/watch?v=uwpN6osofiA
Jamal Watson can be reached at [email protected]. You can follow him on twitter @jamalericwatson