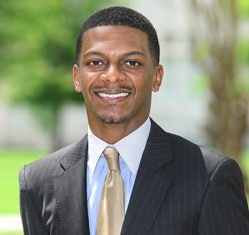 NEW ORLEANS ― After serving for five years as director of the McNair Scholars Program and the University Summer programs at Xavier University, Damon L. Williams Jr. will begin a new job this week as director of diversity, community and recruitment for The Laney Graduate School at Emory University.
Williams, who is also an alumnus of Xavier, will be responsible for spearheading Emory's recruitment efforts and initiating new diversity programming, working with faculty and administrators to ensure that the graduate school—which is home to more than 40 academic programs—is diverse.
"I am extremely excited to join the Emory intellectual community and help strengthen the Laney Graduate School's efforts to promote diversity and inclusion in all facets of student recruitment, engagement, matriculation, and success," said Williams, a Louisiana native who has been lauded for his work in helping to place dozens of Xavier students into competitive master's and doctoral programs across the nation.
Under Williams' leadership, Xavier's summer programs, which have served middle and high school students to the New Orleans campus for more than three decades, have grown exponentially. Today, the summer programs serve as a national model for how best to attract youngsters to the STEM fields long before they enroll into college.
In an interview with Diverse, Dr. Norman C. Francis, president of Xavier, praised Williams' skills and said his departure from the nation's only Catholic HBCU is a major loss, noting that, during his time in the position, Williams also served as Xavier's representative to the Leadership Alliance, a consortium of 34 colleges, universities and private industry whose mission is to prepare underrepresented students for leadership in academia, business and the public sector.
"When you get someone as talented as Damon, it's hard to keep them," said Francis who has led the school for the past 46 years.
Williams said that, as he settles into his new role, he's particularly interested in helping to create a pipeline between Emory and HBCUs across the nation.
"We are thrilled that Damon is joining the Laney Graduate School and the Emory University community," said Dr. Lisa A. Tedesco, who has been dean of the Graduate School since 2006. "He is an extraordinary professional with a broad range of accomplishments and experiences and wisdom that will lead us forward."
Jamal Watson can be reached at jwatson1@diverseeducation. You can follow him @jamalericwatson