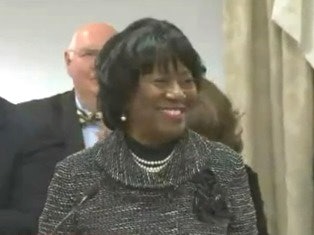 Just weeks after naming an interim leader to succeed outgoing president Keith T. Miller, Virginia State University has formed a presidential search committee whose work will begin in 2015, the university announced Wednesday.
University officials say that, while the national search will get going early in the new year, there's been no timetable set for when the 10-person search committee will make its decision on a new president. The committee includes six VSU board of visitors members, a faculty representative, and the VSU National Alumni Association president.
"We have assembled a diverse and exceptional committee to undertake this very important task. We are committed to engaging in a transparent process that adheres to the university's strong commitment to shared governance," Harry Black, the Rector of the Virginia State University board of visitors and the presidential search committee chair, said in a statement.
Last month, the university named Dr. Pamela Hammond, the current Hampton University provost, to become VSU interim president effective Jan. 1, 2015. Hammond, who will be the first woman president in the school's nearly 133-year history, replaces Miller who announced his resignation this past October. Miller, the school's 13th president, will return to the VSU faculty as a tenured professor.
"Virginia State University has a remarkable history and a compelling story," Hammond told a gathering of members of the VSU community during a campus introduction event last month.
Since 2009, Hammond has served as the Hampton provost and has led an academic program that includes 5,500 students and 350 faculty members. Under Hammond's leadership, a faculty mentorship program, an online education division, and 12 new academic programs, including four at the doctoral level, have been launched at the private Hampton, Va.-based historically Black university. In addition to her Hampton duties, she is a member of the Reaffirmation of Accreditation Committee of the Southern Association of Colleges and Schools (SACS) Commission on Colleges.
A nurse by training, Hammond earned a bachelor's degree in nursing from Tuskegee University and a master of science in maternal-child nursing from the University of Maryland-Baltimore. She attained a doctorate in urban services, with a concentration in educational leadership and health care administration from Old Dominion University.
"In considering candidates for this important position, what emerged in Dr. Hammond was an individual with a remarkable depth and breadth of knowledge in academic leadership, administration, development and strategic planning processes," Black said.
Recent news reports have noted that Hammond will face considerable challenges as the university has struggled recently with budget cuts, an enrollment decline, and student protests. Thomas Reed, the director of university relations, said that Hammond "has initially a one-year contract" as interim president. He noted that the contract does not exclude Hammond from being considered a candidate for the full presidency.
Hammond was unavailable to comment as to whether she will become a candidate for the full VSU presidency. Last month, she pledged to students, faculty and staff that she would consider their views and concerns in her decisions.
"Our students need someone who will listen to them but so does the faculty and the staff. We need to have outlets so that the parents may know what's going on. Our alums need to know despite wherever they are in the world … I will hear your concerns regardless of what they are," she said.