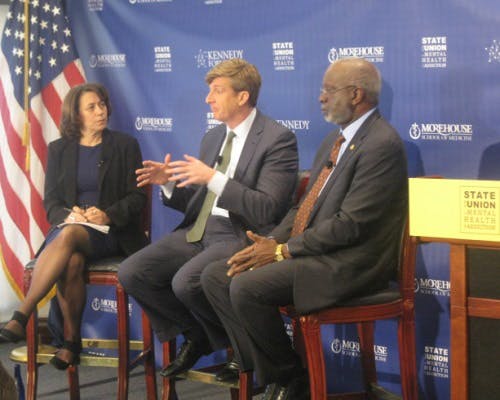 Health research executive Ceci Connolly (left) moderates National Press club event with Patrick Kennedy (center) and Dr. David Satcher (right). (Photo by Ronald Roach)The Morehouse School of Medicine and The Kennedy Forum mental health advocacy group, led by former U.S. Rep. Patrick J. Kennedy (D-R.I.), have teamed up to launch the Kennedy Center for Mental Health Policy and Research as a medical school-based organization to expand and promote best practices in mental health and addiction treatment in the United States.
Kennedy, former U.S. Surgeon General David Satcher and other officials announced Tuesday that the new center has been established as part of the Satcher Health Leadership Institute, which is housed at the Atlanta-based Morehouse School of Medicine (MSM). In addition, during the announcement event, The Kennedy Forum and MSM officials released new public opinion research on mental health to mark the new center's first State of the Union in Mental Health and Addiction presentation.
"It's very much fitting for us to stand here with … The Kennedy Forum, sharing the excitement of joining forces, to announce the creation of the Kennedy Center for Mental Health Policy and Research at Morehouse School of Medicine," said Dr. Valerie Montgomery Rice, president and dean of MSM.
"This collaborative partnership will increase the visibility of mental health policy issues and solutions by engaging the public and policymakers, and what we describe at the Morehouse School of Medicine … as the community," Wright told audience members during the announcement event at the National Press Club in Washington.
The Kennedy Center for Mental Health Policy and Research is being established with a $5 million endowment funded equally by The Kennedy Forum and an MSM grant from the National Institutes of Health. Dr. Glenda Wrenn, director of the Division of Behavioral Health at MSM, and Dr. Harry J. Heiman, director of the Division of Health Policy at the Satcher Health Leadership Institute (SHLI), will lead the new center.
The partnership with The Kennedy Forum "is very significant for us because we've been doing work in this space a long time. … What this opportunity affords us is to bring in our research" and best practices in mental health care, and scale it nationally, Rice told Diverse.
Satcher explained the new center has evolved in part from the relationship he developed with Kennedy when the Satcher-led U.S. Surgeon General's office during the Clinton administration issued the first-ever national mental health report. "Patrick [Kennedy] was a leader in Congress and we developed a great working relationship. It means a lot to me to be able to join him in this partnership," said Satcher, who is now director of SHLI.
Kennedy said that, more than a decade after release of the U.S. Surgeon General's mental health report, Satcher remains a pre-eminent mental health care policy advocate. The Kennedy Forum considered it "appropriate to take the foremost leader in mental health public policy with his landmark surgeon general's report and really work to get that message out there" that the U.S. health care providers expand mental health services and best practices, Kennedy said.
"The issue we have is translating what we know into practice. And that's what I hope we're able to do with the work The Kennedy Forum and the Morehouse School of Medicine are doing together going forward," he noted.
The public opinion research, commissioned by the new center and conducted by the Public Opinion Strategies organization, reports that 74 percent of Americans believe physical health is treated with more importance than mental health in the American health care system. Nearly all Americans believe the state of mental health and addiction in the United States represents a serious problem, and 70 percent says it requires "significant" or "radical" changes by health care providers, according to the research data.
The public opinion research poll indicates that:
1) Americans report broad, bipartisan support for action on mental health issues.
2) The majority of Americans surveyed believe that quality of and access to mental health care need to be made top priorities in health-care policy.
3) There's a need for better research into the causes, treatment and prevention of mental health conditions, such as depression, anxiety, and alcohol and drug abuse.
"The State of the Union [message has] enormous possibilities to absolutely transform health care so that it doesn't mean health care and mental health care. It means health care, which includes mental health as integral to the overall delivery of health care," Kennedy said.