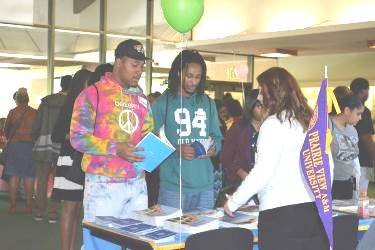 The California Community College system and nine historically Black four-year institutions have taken a notable step in approving a transfer program linking California's 112 two-year colleges with the nation's Black college community.
Last week, leaders of the nine schools each signed agreements with the California Community Colleges Board of Governors with them guaranteeing that, starting fall 2015, California community college transfer students who satisfy certain academic criteria will gain admission to any of the nine colleges and universities.
The agreements stipulate that students who apply to the schools and earn a transfer-level associate degree with a GPA of 2.5 or higher and complete either the Intersegmental General Education Transfer Curriculum or the California State University General Education Breadth study program will be granted admission as a college junior.
"The California Community Colleges [are] working on multiple fronts to create avenues of opportunity for our students," California Community Colleges Board of Governors president Geoffrey L. Baum said in a statement.
"This agreement opens a new and streamlined transfer pathway for our students to some of the finest and culturally diverse institutions of higher learning in the United States. I thank our nine partners for working with us to make it possible," he noted.
Under the agreement, transfer students will gain "priority consideration for housing, consideration for transfer scholarships for students with a 3.2 or higher GPA, and pre-admission advising," according to the California Community Colleges Board of Governors.
The nine participating institutions are:
Bennett College, Greensboro, N.C.
Dillard University, New Orleans, La.
Fisk University, Nashville, Tenn.
Lincoln University of Missouri, Jefferson City, Mo.
Philander Smith College, Little Rock, Ark.
Stillman College, Tuscaloosa, Ala.
Talladega College, Talladega, Ala.
Tuskegee University, Tuskegee, Ala.
Wiley College, Marshall, Texas
Eight of the participating schools are private institutions. Lincoln University of Missouri is public and will offer in-state tuition for California community college transfer students.
David Page, vice president for enrollment management at Dillard University, described the California agreement as "a win-win" for the New Orleans-based liberal arts university.
"As we look to increase our enrollment, we have to look at all opportunities, and certainly transfer students are in that conversation," he said.
Page said Dillard is well-positioned to benefit from the community college transfer program given that California is ranked second best among the 50 U.S. states sending significant numbers of students to the university.
"We already spend a considerable amount of time in the state recruiting. … What this [agreement] does is give us additional opportunities," he said.
"We will spend more time with the community colleges out there, sharing the good news of Dillard University and again hopefully encouraging them to enroll at our university to receive a bachelor's degree," Page added.
Dr. Courtney Griffin, interim executive director of enrollment management at Tuskegee University, said the California community college agreement represents an opportunity not only to increase enrollment but to boost overall diversity at the Tuskegee, Al.-based school. Griffin said Tuskegee has recruited at a California college fair that has high numbers of Latino students and sees the state's community college population as one where the university can conduct outreach to Latino, White, and Asian students as well as to African-Americans.
The transfer agreement "is a great opportunity [for us] to increase our diversity," she said.
Griffin noted the university's recruitment program is well-established in California with strong support from local alumni and a full-time recruiter who focuses largely on the state. California is the source of the university's second largest pool of community college transfers among U.S. states. Tuskegee enrolls roughly 2,600 undergraduates and admits 165 to 170 transfer students annually.
Antoinette Battiste, an independent education consultant based in California's Silicon Valley, welcomed news of the community college transfer agreement as she worked with fellow Alpha Kappa Alpha (AKA) sorors to prepare for the 25th Annual Black College Awareness Fair. The March 21 event, held at Stanford University, drew more than 300 students ranging from middle schoolers to community college students.
Battiste, who was co-chair of the 25th Annual Black College Awareness Fair, said she expects that the fair's organizer, the Rho Delta Omega Chapter of AKA, will work closely with the state's community college system to help it leverage the work that HBCU alumni groups and other predominantly African-American organizations have been doing for years to recruit California students to HBCUs.
"It was fitting that last week's announcement unfolded as [my sorors and I] were preparing for the Black College Awareness Fair," she said.