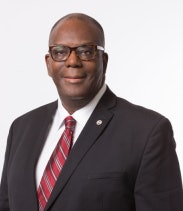 Clark Atlanta University has selected Ronald A. Johnson to be the fourth president in the historically Black institution's history.
School officials said in a statement that Johnson, dean of Texas Southern University's business school, will begin in his new role July 1. He takes over for Carlton E. Brown, who is retiring on June 30.
"Our search was intentionally broad," Clark Atlanta trustee Joe Laymon said in a statement released Tuesday by the university. "We carefully reviewed more than 100 applications from across the United States. Our fundamental qualifications for the position were rooted in the University's strategic plan, the realities of the current economic climate, the prevailing legislative environment and the increasingly competitive global student recruitment marketplace."
Clark Atlanta officials say Johnson earned a degree in economics and an MBA from Adelphia University, and earned a master's and a Ph.D. in economics from Stanford University.
"There are few institutions in the United States, HBCU or otherwise, with the rich dual history, the intellectual legacy and the tradition of scholar-activism that defines Clark Atlanta," Johnson said in expressing his eagerness to lead the university.
With its first comprehensive capital fundraising campaign a possibility for the near future, Johnson's business acumen undoubtedly made him an attractive candidate. Among previous positions he's held are president and chief investment officer of Smith Graham & Co., where he managed $3 billion in assets; director of global fixed income research and senior portfolio manager for Templeton Worldwide, Inc., where he oversaw assets valued at $2 billion; division chief for domestic financial markets with the Federal Reserve Bank of New York; and as an economist with the International Monetary Fund, as well as the Federal Reserve System Board of Governors.