SAVANNAH, Ga. — Dr. C. Reynold Verret, who is currently the provost and vice president for Academic Affairs at Savannah State University, has been tapped to be the next president of Xavier University in New Orleans.
Verret, who was born in Haiti and came to the U.S. as a refugee in 1963, spent his formative years in the Crown Heights section of Brooklyn. He will succeed Dr. Norman C. Francis—currently the longest serving U.S. college president—who has presided over the private, Black Catholic college since 1968.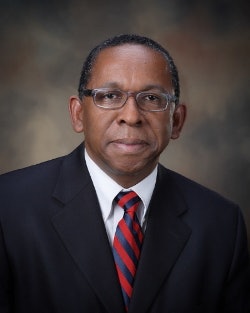 "I am thrilled and somewhat humbled," said Verret in an interview with Diverse. "It's an important position and a great school. I've always admired its purpose and achievement."
Verret has some familiarity with New Orleans.
A trained scientist, who was the former chair of the Chemistry department at Clark Atlanta University, he was also on the faculty of Tulane University which is located across town from Xavier. He later went on to hold administrative posts as dean of the Misher College of Arts and Sciences at the University of the Sciences in Philadelphia and as provost of Wilkes University in northern Pennsylvania. He arrived to Savannah State University as provost in 2012.
Although his tenure at Savannah State has been relatively short, Verett said that he helped to improve the retention of students and to strengthen the school's Honors program.
"I try to cultivate talent and give it wings, whether it's faculty or students," said Verett, who knows that he has big shoes to fill in replacing Francis, who has become a fixture throughout New Orleans.
Dr. Cheryl D. Dozier, president of Savannah State praised Xavier's selection of Verret for the presidency.
"I am very pleased Dr. Verret has been selected for this phenomenal opportunity," she said. "While his departure is a loss for Savannah State University, he is a proven leader in higher education and is definitely prepared to uphold and advance the strong legacy of the legendary Xavier University."
Francis said that he too was impressed by Verret's "great credentials" and dismissed critiques that Verret has not been a college president.
"From the time I did spend talking with him, I can tell he is a Renaissance man," said Francis, whose last day at Xavier is June 30. "He brings with him a world of experience."
Verret's training in the STEM field will bode him well at Xavier, where more than 50 percent of the students major in some form of sciences.
In an interview, Michael Rue, chair of Xavier's board of trustees said that Verret's background with improving enrollment, retention and graduation rates "sealed the deal for us" in deciding to name him to the post.
"His experience as a higher education administrator was very important to us," said Rue. "This is a guy that has deep, deep experience in how to run a school."
Rue said that Verret has enjoyed a positive reaction from his current and former colleagues.
"The reaction that we got from people was just overwhelmingly positive," Rue said about the vetting process which began with an initial application pool of about 300 candidates. "He's a kindred spirit with Dr. Francis in recognizing the role that higher education can play in leveling the playing field. I was very touched by his story."
Verret earned a bachelor's degree in biochemistry from Columbia University in New York and a doctorate in biochemistry from the Massachusetts Institute of Technology.
Francis, who took the helm of the presidency on April 4, 1968—the very day that Dr. Martin Luther King, Jr., was assassinated—said that he's optimistic about Xavier's future.
Any advice for the incoming president?
"He has to just get in it and ride the wagon with everyone else," said Francis. "It will not be an easy road in the future, but I think he will do well."
Jamal Eric Watson can be reached at [email protected]. You can follow him on twitter @jamalericwatson