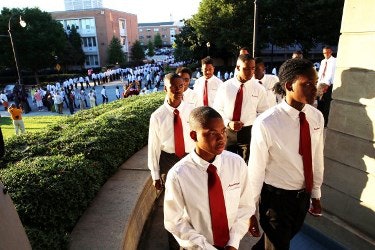 Reports that Morehouse College enrolled its largest freshman class in the college's history went viral Thursday, with alumni and supporters across the internet celebrating the reported 750-member incoming class.
Both the reported number and the claim that it is record-breaking are false, however, college officials have said.
Seven hundred-fifty was released as a projected total, said one long-time employee of the college, but the number has not been reached at this time. The official could not release the exact number at this time, he said, since enrollment is still underway.
A search of the IPEDS database reveals that, in the fall of 2003, the institution enrolled 753 freshmen students, a number that represents a 15-year high (though data are not available for the 2014-2015 school year, a 2014 Morehouse press release indicated an enrollment of "nearly 700").
Despite the fact that this year's projection is not record-breaking, as is being widely reported, it still represents a significant increase and a high for current President John S. Wilson. Enrollment had hovered around 500 since 2010 before beginning to trend upward in 2014.
At a time in which negative headlines about the fates of young Black males in this country are prevailing, the upward trend in enrollment at the nation's only institution dedicated solely to the education of Black men is a positive step.
"It is critically important to celebrate the success of Black men and the individuals and institutions that support them—cognitively, socially and emotionally," said David Johns, executive director of the White House Initiative on African American Educational Excellence.
Morehouse's mission to educate Black men is consistent with one of the president's major focuses.
"President Obama established the My Brothers Keeper Initiative, in part, to reframe negative narratives surrounding Black men, which often serve as barriers to opportunity and success," said Johns. "Consistent with the effort of [My Brothers Keeper] to disrupt and supplant negative stereotypes, we must celebrate and encourage the continued efforts of institutions like Morehouse that are working to accelerate African American educational excellence."