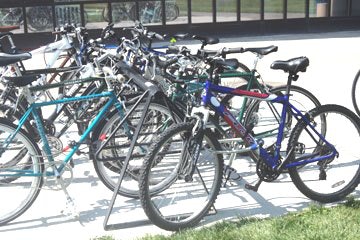 In rural Alabama, transportation is a clear necessity. And for students without a car, getting around has its own set of unique challenges.
But that may soon change at Tuskegee University.
The university is launching a bike share program on campus, a new initiative that is being supported by Regions Bank. The bikes, which Regions Bank has donated to the private university founded by Booker T. Washington, will be used to allow students to run errands, commute to class, or utilize for exercise purposes. There will be no cost for students to use the bikes.
"Since my arrival, I have been intent upon maximizing and leveraging Tuskegee's historic campus and reputation for multiple usages certainly including but not limited to the health and wellness of our constituencies," said Dr. Brian Johnson, Tuskegee's president. Johnson said that the program, which will begin in September, will be managed by the university's Office of Student Life and Development.
In recent years, bike share programs have become popular on some U.S. college campuses and across the country. Tuskegee may in fact be the first Historically Black College and University to initiate this service.
"We believe in the mission of Tuskegee University and are proud of the impact that Tuskegee University has in our community," said Sean Johnson, Central Alabama Area President of Regions Bank. "Regions Bank has long been a part of this community, and we believe it is our responsibility to help make life better in the communities we serve. We have seen first-hand the hard work and dedication of the staff and students of Tuskegee University, and we want to be a part of ensuring that it is vibrant and continuously growing."
Jamal Eric Watson can be reached at [email protected]. You can follow him on twitter @jamalericwatson