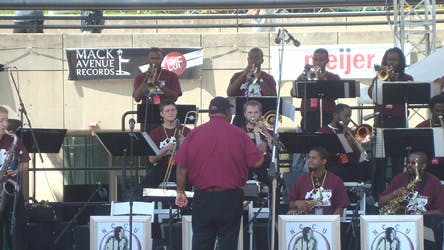 Historically Black colleges and universities have a special role in jazz history as institutions that helped set the stage for the rise of jazz education in higher education.
It's documented that, as early as 1919, Tuskegee University, then known as Tuskegee Institute, o­ffered jazz instruction from the renowned educator and bandleader Leonard L. Bowden. By the early 1930s, Black college jazz bands toured widely to raise funds for and promote their respective schools. Schools, including Alabama State University, Fisk University, Tennessee State University, Kentucky State University and Florida A&M University, fielded bands that contributed to the popularity of the swing era jazz as dance music.
A number of noted musicians who led their own bands and gained recognition as instrumentalists began careers in Black college bands. Legendary among those associated with the early Black college jazz tradition, Erskine Hawkins played trumpet in the famed 'Bama State Collegians of State Teachers College (Alabama State University) and led the group when he and his bandmates took up residency in New York City in 1934 to perform as a professional ensemble.
Eventually, the group relinquished the 'Bama State Collegians name and toured as Erskine Hawkins and His Orchestra. The band is largely remembered for recording the classic "Tuxedo Junction" composition, which Hawkins helped compose.
By the 1940s, the popularity and acceptance of jazz in American culture paved the way for music educators to establish jazz studies degree programs largely in music departments at predominantly White colleges and universities. Since then, despite some resistance from classical music faculty, more than 200 jazz studies degree programs have taken root at U.S. colleges and universities. In the 21st century, colleges and universities represent a critical part of the cultural infrastructure that now cultivates and sustains jazz as a viable art form.
Although fewer than 10 such programs exist at historically Black institutions, jazz performance groups, including small combos, vocal groups and big bands, continue to have an important presence. Two historically Black schools, Howard University and North Carolina Central University (NCCU), o­ffer a master's program in jazz studies in addition to an undergraduate program. HBCUs also annually organize a number of regional jazz festivals that showcase high school, college, and professional bands and artists, such as the Alcorn State University Jazz Festival.
Jazz educators insist that HBCUs have remained relevant to jazz in American higher education and that their music departments have the potential to host new jazz degree programs. They worry, however, that HBCUs are not doing enough to honor the tradition of innovation that once saw jazz propelled from Black college campuses to the mainstream of World War II-era American pop culture.
"Jazz education really started with HBCUs," says Dr. Larry Ridley, a bassist and veteran music educator who helped establish the jazz studies program at Rutgers University in the early 1970s.
"­The jazz bands were utilized to help raise funds to keep the institutions open. … So they were very significant during that particular time" in jazz history, says Ridley, who co-founded the African American Jazz Caucus that was heavily active in the 2000s as an organization supporting jazz education.
Over the past three decades, HBCU jazz studies in "a few places have grown. But I think the majority of them are treading water and trying to survive," says Dr. Ira Wiggins, director of jazz studies at NCCU.
"A lot of HBCUs have jazz ensembles but not degree programs where they have the improvisation courses, composition and arranging, the history and the pedagogy — all the things that go along with the complete degree offering. … That's what is really needed," he said.
Such degree programs afford a broad range of students, including traditional music education majors and even non-music majors, the opportunity to learn jazz performance and pedagogy in depth, says Dr. Russell Thomas, director of jazz studies at Jackson State University.
Studies taking flight
For years, Wiggins was the only full-time faculty member in the jazz studies program at the Durham, North Carolina-based NCCU. Between joining NCCU in 1986 and the early 2000s, Wiggins had faculty responsibility for managing four ensembles, including a big band, two small group combos and a vocal jazz group, in addition to teaching jazz studies classes.
With limited help from part-time adjunct faculty, Wiggins regularly led NCCU jazz groups to garner top awards at events, such as the Villanova Jazz Festival in Philadelphia and the Count Basie Jazz Festival at Hampton University during the 1990s. In other highlights, the NCCU jazz ensemble performed at the Montreux Jazz Festival in Switzerland and at Euro-Disney in Paris. In addition, the Clinton White House hosted both the NCCU jazz combo and vocal jazz ensemble, in which the groups entertained guests during a reception.
With increased support from the NCCU administration beginning in the early 2000s, the jazz studies program hired full-time professors who helped lighten the load that Wiggins had carried for so long. ­The new hires brought specialized expertise in vocal and instrumental instruction that strengthened NCCU jazz studies and paved the way for the program to offer master's degrees in jazz performance and jazz composition and arranging.
"We are fully staffed now. … That's been the major thing that's allowed us to get to the point where we could have the master's program. … Since 2003, we had been talking about the master's program and we finally got it on board in 2008," Wiggins says.
Elite performance opportunities and accolades that had distinguished the NCCU jazz program in the 1990s expanded in the 2000s and they have continued into the current decade. ­The program has grown to include four combos, two big bands, a vocal group of 16 students and a guitar ensemble, which currently provide opportunities for 30 undergraduate and 20 graduate jazz studies majors. In addition, noted jazz greats, such as Branford Marsalis, have had high-profile artistic residencies in the NCCU music department and have helped the NCCU jazz groups produce performance CDs.
­This past spring, an outpouring of public support emerged when it was incorrectly reported by North Carolina news media that the UNC system had eliminated the NCCU jazz program along with low-enrollment academic programs around the state. Wiggins and NCCU officials labored mightily to set the record straight and assure supporters the renowned program would continue forward.
"We were flooded with calls and emails from people around the country and as far away as Germany, including current students, alumni, incoming students and their parents," he says.
Wiggins credits NCCU chancellors James Ammons, Charlie Nelms and Debra Saunders-White for recognizing the full potential of the university's jazz program and bringing to it support for additional full-time faculty and other resources. Serving as NCCU chancellor from 2001 to 2007, Ammons, who is related to jazz legends Albert and Gene Ammons, deserves high praise for having understood the value jazz education brought to NCCU, Wiggins says.
It proved advantageous that "Ammons was the [chancellor] and he was kin to Gene Ammons, the great tenor [saxophone] player. He had an affection for jazz and he supported us a lot," Wiggins notes.
Robert Trowers recalls that Wiggins had developed a compelling teaching environment for the professional musicians he recruited to expand the NCCU jazz program. A trombonist with the Count Basie Orchestra during the 1980s and '90s, Trowers says the jazz ensembles under Wiggins stood out in the band camps the Count Basie band members had conducted at Hampton University.
"What we noticed about his groups more than any other was that they really had the kind of feel that we felt that jazz groups should have. … They were noticeably more swinging and had more of the feel that we as members of the Basie band felt was important," Trowers says.
Eventually relocating from New York City to Durham in 2004, Trowers says the NCCU jazz program was grounded in the fundamentals derived from the swing era. Being at an HBCU "was the community where the music first came from," he says.
It took jazz vocalist Lenora Helm Hammonds a few years of part-time teaching and being an artist-in-residence at NCCU to recognize that formulating vocal jazz performance pedagogy had become a calling and that she should become a full-time faculty member to devote herself to pedagogy. Like many other professional musicians who join academic music departments, Hammonds pursued graduate school while continuing to teach.
Hammonds, like Trowers, relocated to North Carolina from New York City, where she had been based as a professional vocalist and composer following her undergraduate years at the Berklee College of Music during the 1980s.
"All the time I started spending at NCCU it just opened my eyes; it was life-changing because I was able to see how little attention vocal jazz is given in jazz programs" at other schools, says Hammonds, who is an assistant professor. In addition, there are too few published books and teaching documents to help vocal jazz instructors with their students, she adds.
Hammonds, who has been teaching full time since 2007, qualified to join the tenure track in the NCCU music department in 2013 and is set to begin work on a dissertation in her Boston University music doctoral program this summer. She notes that she will be eligible for tenure in 2020, or 17 years after first working at NCCU.
"I always look at the end result, and if the end result is going to be something that's awesome where there will be vocal jazz pedagogical tools and books, and the people who come after me that teach vocal jazz won't have the hard time I had, then it's worth it," she says.
Cultivating jazz
HBCU music educators are mindful that the push for jazz education can come into conflict with pressures generated by marching bands and the traditional, or classical, music program, all of which are vying for faculty hires, scholarships, courses, and other resources determined and allocated by music departments.
Thomas says it's often necessary for university presidents to make jazz education a high priority such that jazz studies courses and degree programs can be established at an institution.
"Jazz education needs good leadership. You have to have a strong president who would like to have [jazz studies programs] in place," he says.
Mondre Moffett, director of the jazz ensemble at North Carolina A&T State University, would like to see HBCU administrations, including the one presiding at the Greensboro-based school, get directly involved with making jazz education a high priority for their institutions.
"Jazz is America's classical music. But many of our educators don't see the full value that it has," he says.
Moffett, who has proposed a jazz studies program at N.C. A&T, says the improvement the school's jazz ensemble has made over the past decade presents opportunity for both music and non-music majors. But it's disappointing that the university has not taken the steps to establish jazz studies as a degree program, he says.
Before joining the Tennessee State University music department faculty as a percussion area leader and assistant professor of music in 2007, Dr. Sean Daniels was director of the marching band and developed and led the jazz bands at Benedict College, a historically Black institution in Columbia, South Carolina. Daniels, who chaired the Fine Arts Department, which included the Music Program, notes that the Benedict College president had made it a priority for the school to revive its dormant marching band tradition as well as establish a jazz ensemble.
"In the process, I built a jazz combo program [and] a big band; we taught improvisation, taught history of jazz, taught arranging [and] taught composition," Daniels says.
"I didn't have all the resources, but we exposed [Benedict students] to everything we could. … Because I was chair I could push that agenda and I thought it was important," he adds.
At Tennessee State, where there are more than 100 music majors, Daniels says jazz courses and bands are on solid footing in a music department that does not currently offer a jazz studies major.
"We have Mr. James Sexton, who directs the Jazz Collegians. And the Collegians have been around quite some time. … The Jazz Collegians [band] is a flagship," Daniels says of the Tennessee State big band group that dates back to the 1940s.
The university-sponsored jazz festival has also signaled the commitment of academic programs along with their administrations to demonstrate leadership on bringing jazz to public audiences.
The Alcorn State University Jazz Festival is one of a few HBCU jazz festivals. Originally organized by Thomas when he was a young professor at Alcorn State in the early 1980s, the festival has brought jazz masters, such as Clark Terry, Max Roach, Freddie Hubbard, Donald Byrd and Ramsey Lewis, to perform before Mississippi audiences.
Marking its 35th year in April, the one-day festival has also been a showcase for college and high school bands from around the country. This year's festival, which featured 17 groups, fell on April 18 and was held in Vicksburg, Mississippi.
"The festival is not just an important component of Alcorn's jazz program, but a very important component of jazz in this whole region," Miller says.
"It's one of the biggest things that the university does" in terms of public outreach and community service, he adds.