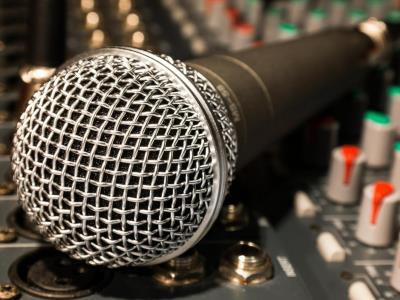 With battles, braggadocio and bravado being the norm within hip–hop—the world–famous American art form and subculture that includes rapping, deejaying, breakdancing and graffiti—diplomacy has to be one of the last things that comes to mind.
Beef—a common rap term for conflict and that can often be deadly—has to be one of the first.
Which is what makes Next Level — a small but far-flung hip-hop initiative supported by the U.S. State Department and run in conjunction with the music department at the University of North Carolina at Chapel Hill—all the more noteworthy.
The program—launched in 2015—not only sends emerging American rap artists and hip-hop educators abroad to places as far away and diverse as Serbia and Senegal, Tanzania and Thailand, but it also brings some of the most promising young hip-hop artists from those countries to the U.S. to engage in a cross-cultural exchange.
Recently, the program's current cohort of artists from abroad made an appearance at American University, where they told their stories and performed and rapped freestyle in a "cipher" that featured lyrics in their native languages, which were as diverse as Swahili and Spanish.
With beats and rhymes echoing throughout the atrium at the School of International Service, the spectacle drew onlookers that ranged from students and faculty to maintenance workers.
At first glance, the event might have looked like any other student-led rap performance at a campus near you. But there was much more to this performance than the raps and breakbeats and dancers doing dangerous moves.
Michele Peregrin, program officer at the State Department's Bureau of Educational and Cultural Affairs, said the department backs the Next Level initiative because of hip-hop's global appeal as a vehicle of expression for society's dispossessed.
"We support the Next Level because, while there's always a role for traditional diplomacy, we also recognize the importance of reaching out to diverse audiences who may not otherwise be able to engage," Peregrin said.
"Hip-hop has a history of representing those who wouldn't otherwise have a voice," Peregrin said. "That means it's an excellent tool for engaging and empowering at-risk youths."
Indeed, members of the current cohort of Next Level artists say they use hip-hop to form powerful new identities and to speak to the harsh realities that exist within their native lands.
"Where I come from, someone who looks like me is supposed to be weak and sick," explained Drichiru Key, a b-girl, or female breakdancer, from Kampala, Uganda. "It has all these attachments, and I grew up like that. It was too much, and it was stressful."
But after Key became a b-girl, she said her reality changed.
"Somehow I felt free," Key said. "I was looking for safety. To me it meant a big deal for me because of what I achieved through that," added Key, who is now a teacher at the Breakdance Project Uganda.
Whereas most girls in Uganda are taught traditional Ugandan dances, Key said she didn't enjoy learning those dances because they were a compulsory part of the curriculum, whereas breakdancing enabled her to break the mold, so to speak.
Boonyachana Tissakul, of Thailand, who goes by the name B-Boy September, expressed similar thoughts.
"My parents told me, 'You must be like this. You can't do like this,'" Tissakul said, explaining his parents' expectations to not go against cultural norms. "I tried to do something to make me happy, and I do breakdancing."
He said the decision was the "best of my life."
For Amani Msangi, of Tanzania, a rapper who goes by the name of MC Kiche Legend, rap has always been about examining life and the human condition.
He recalled his first experience with rap while walking home from school and he encountered a bunch of guys hanging out underneath a mango tree and playing the rap music of Professor Jay, a legendary Tanzanian hip-hop artist who started his music career in 1994 and recently won a seat in the Tanzanian parliament.
The song was about a man who squandered all his money on women and extravagance until he lost it all.
"I'm 6 years old and trying to process this stuff," Msangi said. As he heard more rap music, he began to identify with the stories, thinking, "I was just going through this myself, but there's somebody else in the world who's going through this."
For Msangi, rap has always been "futuristic."
"It has a power to tell you what the future holds and bring the past to you whenever you need it," Msangi said.
Ainara Calix Montesinos, a female rapper from Honduras, said she's always had a gift for singing, but when she began to use her gift to rap and sing hip-hop music, people in her country questioned her decision, telling her she could sing jazz or "whatever music you choose."
"And it's just because I feel free," said Montesinos, who goes by the name AinaJuana, in explaining why she chose hip-hop. "I feel like I connect and express better with my rhymes."
She spoke of being the only female to win a large rap battle that featured 50 male rappers. The video of the event went viral and inspired other girls in Honduras, she said.
"When I'm rapping, I feel strong," Montesinos said. "And rap brings me the capacity to connect with my people.
"I come from Honduras, which is in Central America, and there we have a lot of problems with gangs and stuff. A lot of violence," she explained. "Hip-hop connects with that reality."
DJ Cue Bass, of El Salvador, said that, when he returns to his country, he hopes to spark a hip-hop movement because most of the rappers there live "in a bubble."
"They need to expand their awareness, think globally, stop talking about the problems and start rapping and talking about the solutions," DJ Cue Bass said.
Paul Rockower, executive director of Levantine Public Diplomacy, a nonprofit that partners with UNC's music department and the State Department to administer Next Level, said hip-hop connects with people in other parts of the world like other forms of American music cannot.
"The purpose of the program is not to be hip-hop missionaries, but taking American artists who represent the best of American hip-hop and connecting them with hip-hop communities abroad," Rockower said, explaining the part of the program that sends American hip-hop artists abroad.
"If it's blues or bluegrass or Hawaiian, that's showing a different side of American culture that audiences might not be aware of," Rockower said. "But hip-hop is such a universal culture that it creates an even exchange."
For what it's worth, the next academic year is the last year that Rockower's group is slated to run the program with UNC. After that, he revealed, the State Department will open up the competition to run the program to other entities that may want to administer the program.
Jamaal Abdul-Alim can be reached at dcwriter360@yahoo.com or you can follow him on Twitter @dcwriter360.gfvvcv