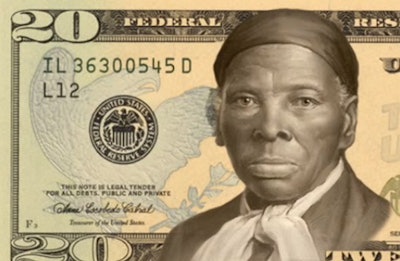 A dramatic overhaul of the nation's paper currency proposed this week by the United States Treasury Secretary is drawing widespread attention with observers cautioning against quick judgments on a decision that historically takes a long time to become reality.
The placement of abolitionist Harriet Tubman on the face of the twenty dollar bill replacing former President Andrew Jackson, who goes to the back of the bill, appeared the most significant change proposed by the government.
Other changes include redesign of the five and ten dollar bills to include women on the back of the bills.
Treasury Secretary Jacob J. Lew called the proposed changes a move to "bring to life" figures and monuments of the nation's history.
"This opens a very interesting discussion," says Dr. William Harvey, president of Virginia-based Hampton University, a nearly 150-year-old institution whose early enrollment was a mix of freed slaves and Native Americans. Harvey declined further comment, saying he had not read the new announcement in detail.
At Nashville's Fisk University, which also had Native Americans among its first enrollees when it was opened by abolitionists 150 years ago this year, historian Reavis L. Mitchell, chairman of the university's department of history, said those who are concerned about the proposal moving Jefferson, a Tennessean, to the back of the twenty dollar bill should note he was not removed from the proposed redesign, given Jackson's ownership of slaves and his signing of legislation as president that forced the relocation of Native Americans from the South to Oklahoma.
"It's more significant he wasn't moved out," says Mitchell. "Black folks never wanted to move Whites out," Mitchell said. "They just wanted to be equally recognized for our contribution. This country was first financed with the money from the slave trade."
"The decision itself is multilayered," said Joanne Issac, of the American Numismatic Society, the major New York-based organization that studies coins and currencies from around the world. "It won't happen for years," she said of the proposed American currency change, noting there were a number of different groups advocating competing positions leading up to this week's announcement.
One idea that got much attention before Secretary Lee's announcement was moving Treasury Secretary Alexander Hamilton to another position other than having his face currently on the ten dollar bill.
Discussions about removing the penny from circulation and changing other currencies have gone on for decades, Issac says.
Historically, currency changes will take time, she said. The proposal must clear a lot of committees, she notes. The number of things that must be considered—including colors, ink, texture of a bill, not to mention the look of the person—will reflect a lot of compromise, she says.
Secretary Lee did not put the proposed changes in a time frame when he announced them.