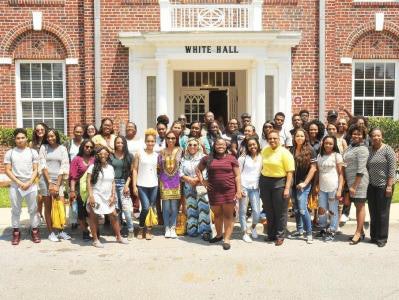 In March 2015, the California Community Colleges Chancellor's Office (CCCCO) signed a transfer agreement with nine historically Black colleges and universities with the intention of increasing the number of community college students who attend HBCUs. This month, the partnership was expanded to include an additional 12 HBCUs.
"The expansion of this historic agreement creates a tremendous opportunity for our students," California Community Colleges Interim Chancellor Erik E. Skinner said in a statement. "HBCUs have a reputation for being among the finest and most culturally diverse institutions of higher learning in the nation. We're thrilled we can expand the pathway for students to embrace all these historic schools have to offer."
To ease the path of transition for prospective students and participating schools, students must maintain a 2.5 GPA and have completed an Associate's Degree for Transfer, or similar transfer-level degree, in order to be eligible for the program. Under the terms of the agreement, students transferring to an HBCU will enter at the junior level, and their transferrable credits will be accepted.
A CCCCO spokesperson said in an email that California community college applications had increased for the fall semester at Wiley College, Stillman College, Philander Smith College, and Tuskegee University as a result of the partnership.
Bethune-Cookman University (BCU) is one of the 12 HBCUs that joined the partnership this year. Manicia Finch, BCU director of admissions, said in a phone interview that the university intended to make the most of the relationship.
"We actually had started a pipeline coming out of California some time ago, focusing strategically on going into the high schools, but this is going to open up a whole new avenue for us and give us the opportunity to offer some magnificent programs to transfer students coming out of California," Finch said. A student has already been accepted to BCU from Victor Valley Community College as part of the transfer partnership, she said.
Finch added that her goal would be to bring 100 to 200 students to BCU from the California Community Colleges System through the transfer partnership. "We're going to hit the ground running early with this, I'm going to be honest with you," she said. BCU already recruits students from California, Finch said, and developed a pipeline program with some California high schools. The transfer partnership with community colleges would open up new opportunities for BCU and prospective students alike, she added.
"I think that we're going to get some amazing students out of California that are going to be very academically prepared," Finch said. "They'll get a chance to get some very rigorous coursework [at BCU] that will line up with their career aspirations. So I think it's going to work out very well. We're excited."
Dr. Rosalind Fuse-Hall, president of Bennett College, an all-women's historically Black college located in Greensboro, North Carolina, said in a phone interview that the partnership was an important one for helping to diversify HBCUs.
"We believe that this will diversify our ranks," Fuse-Hall said. "A lot of the times people think of historically Black colleges as being monolithic, but what they fail to see is the diversity within. Regional diversity, age diversity, life experience diversity, all contribute to the richness of the college, and, as a women's college, that is really going to augment the lives of these students."
Bennett College is one of the nine HBCUs included in the inaugural agreement. So far, no California community college students have transferred to Bennett as a result of the transfer agreement, Fuse-Hall said. However, the college already recruits students from California and has a strong alumnae network in California that offers support and scholarships California students during their time at Bennett.
"We're really anxious about marketing this, not necessarily for this fall class, but the fall class that will be coming in," Fuse-Hall said. "We're excited about it, because we have a number of students enrolled in Bennett College that come from California. This partnership and this agreement will only augment that."
The nine HBCUs in the inaugural partnership with the California Community Colleges System are:
Bennett College in Greensboro, N.C.
Dillard University in New Orleans, La.
Fisk University in Nashville, Tenn.
Lincoln University of Missouri in Jefferson City, Mo.
Philander Smith College in Little Rock, Ark.
Stillman College in Tuscaloosa, Ala.
Talladega College in Talladega, Ala.
Tuskegee University in Tuskegee, Ala.
Wiley College in Marshall, Texas
The 12 new HBCUs are:
Bethune-Cookman University in Daytona Beach, Fla.
Central State University in Wilberforce, Ohio
Clark Atlanta University in Atlanta, Ga.
Edward Waters College in Jacksonville, Fla.
Florida Memorial University in Miami Gardens, Fla.
Grambling State University in Grambling, La.
Huston-Tillotson University in Austin, Texas
Kentucky State University in Frankfort, Ky.
Lane College in Jackson, Tenn.
Lincoln University of Pennsylvania in Oxford, Pa.
Tougaloo College in Tougaloo, Miss.
West Virginia State University in Institute, West Va.
Staff writer Catherine Morris can be reached at [email protected].