With the change in his campaign leadership, including the dumping of his pro-Russian, pro-Putin campaign chair Paul Manafort, all has changed for Republican presidential nominee Donald Trump.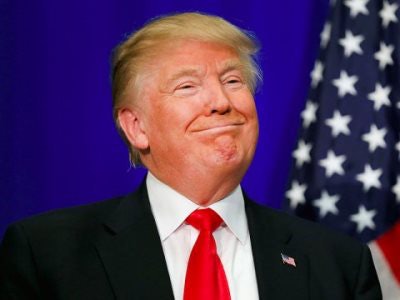 Oh, he still wants to build a wall and ban Muslims. But he's looking elsewhere beyond non-college educated Whites in order to shore up his sagging poll numbers.
His new team is scouring the data like stock-pickers looking for undervalued buys, and they've finally stumbled on something Trump has ignored all campaign.
People of color.
African Americans. Hispanics. And to a certain degree, Asian Americans.
With less than three months before the election, whether out of necessity, or even a bit of desperation, Trump seems to be finally embracing diversity.
"Look at how much African-American communities are suffering from Democratic control," Trump said last week at a rally in Michigan. "To those I say the following; what do you have to lose by trying something new like Trump?"
Trump offered no specific plans to entice voters. Instead, his appeals come out of his own stereotypical view of African Americans.
"What do you have to lose? You're living in poverty, your schools are no good, you have no jobs, 58 percent of your youth is unemployed, what the hell do you have to lose?" he said.
And then in a "try it, you'll like it" fashion he predicted, "At the end of four years, I guarantee you that I will get over 95 percent of the African-American vote. I promise you."
Hard to imagine that unless Trump supporter Omarosa, an African American former contestant on "The Apprentice," manages to clone herself as the entire African American electorate.
Last month, Fox News showed Trump with just 1 percent of the Black vote compared to 85 percent for Hillary Clinton.
By the weekend, Trump was meeting with his new National Hispanic Advisory Council for Trump which will help him come up with a message that might be better than his tweeting earlier this year of his love of tacos.
Trump reportedly told his Hispanic advisors he wanted a "humane and efficient" way to deal with illegal immigration. The Republican National Committee called the meeting a "game changer."
Mentioning Hispanics other than in the context of building a wall, might change the numbers for Trump.
During the primary in March, the Gallup Poll said U.S. Hispanics gave Trump a 77 percent unfavorable rating, with just 12 percent viewing him favorably. By comparison, Mitt Romney in 2012 had a 27 percent approval rating among Hispanics.
To complete the major diversity trifecta, Trump had an invitation a week earlier on Aug. 12 to attend the largest Asian American Presidential forum ever, with more than 3,000 assembled in Las Vegas, Nev.
Trump, who owns a casino there, couldn't be bothered to show up. Instead, he sent Republican Utah State Attorney General Sean Reyes, a Filipino American , as a surrogate.
Reyes seemed appropriate after Trump recently caused an international furor by saying Philippine immigrants should be subjected to increased vetting due to Islamic terror activity in that country.
The broad statement was seen as an insult. Reyes didn't apology but told the crowd that Trump is for legal immigration.
"[Trump] welcomes law abiding Filipinos," said Reyes, who spent most of his time trying to ingratiate himself with the crowd unhappy with the Trump snub.
Of all the groups, Trump would actually have a better chance at attracting Asian Americans, specifically Filipino Americans, who have demonstrated an independent and rightward tilt in past polling.
Though small in overall numbers compared to African American and Hispanic voters, Asian American voters, if courted could represent a narrow margin of victory in key states if a Trump candidacy takes them and diversity seriously.
Emil Guillermo is a journalist and commentator who writes on race, politics, and society for the Asian American Legal Defense and Education Fund, https://www.aaldef.org/blog/