WASHINGTON – Billed as "an evening of conversation about the intersection of race and sports," Wednesday's program at the National Museum of African American History and Culture was actually much more.
Convened by Vanderbilt University chancellor Dr. Nicholas Zeppos as part of the 50th anniversary of the integration of Vanderbilt Athletics and the Southeastern Conference, the event centered around a stunning documentary about the school's first African-American varsity basketball player.
"Triumph: The Untold Story of Perry Wallace," premiered last month at the university. A shorter preview was presented at the NMAAHC program along with a panel of academics and experts discussing sports, race and politics in today's polarized society.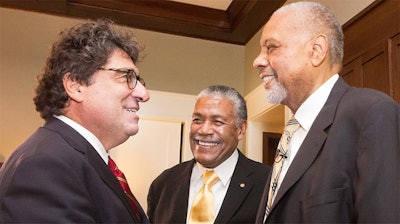 "Some strange bedfellows come together when we talk about race and sports," Zeppos said in opening remarks. "We learn some uncomfortable truths about ourselves and others."
Not only did Wallace make history at Vanderbilt as a player and outstanding student, but in December 1967 he became the first African-American scholarship athlete to play varsity basketball in the SEC. Wallace and another Black Vanderbilt player, Godfrey Dillard, are being honored through the film and forums focusing on race relations in sports. The two athletes experienced vicious threats and hateful incidents at Vanderbilt and at numerous other schools where they played throughout the South. Wallace, who later became an attorney, died Dec. 1, 2017 – just days before the anniversary celebration and premiere. He was 69.
"Perry Wallace changed Vanderbilt … he changed the SEC … and he changed the nation," Zeppos said.
On the anniversary, Zeppos issued a statement to the university: "It was many years before their stories and this painful part of the university's history was acknowledged. However, it is imperative that we look critically at our past to become the Vanderbilt we aspire to be – one in which all can feel welcomed, supported and included as they pursue a world-class education."
As evidence of that diversity, students of color account for 45 percent of Vanderbilt's first-year class, Zeppos said Wednesday. "That's a remarkable transformation," he said. "With diversity and inclusion comes excellence."
Some of that excellence will be demonstrated in the university's new Center for Sports and Society, which will support research, teaching and scholarship. In a column Thursday on Vanderbilt's website, Zeppos described the Washington event as "an example of the programming we'll sponsor at the center, with the goal of raising awareness and understanding and promoting progress."
Among Wednesday's panelists was author and activist Dr. Harry Edwards. The professor emeritus of sociology at the University of California, Berkeley, commented on NFL players' protests and the current jobless status of controversial quarterback Colin Kaepernick. "How do we move from protest to progress?" Edwards asked, noting that "the movement tends to disperse and dissipate."
A consensus of the panel was that one of the main problems related to race in sports is lack of racial diversity in coaching, management and ownership. Sports journalist Bill Rhoden, editor-at-large of ESPN's The Undefeated and a former New York Times columnist, decried the white male-dominated hierarchy in sports, calling it "a collision, not an intersection, of race and sports, and not a problem of race but a problem of racism."
Other panelists were Damion Thomas, curator of sports at the museum; Roz Durant, senior vice president, college networks at ESPN; and David Williams II, Vanderbilt's athletic director and vice chancellor for university affairs and athletics.
The documentary, directed by Rich Gentile and narrated by Forest Whitaker, will have a limited release in New York and Los Angeles early this year. The filmmaker is negotiating wider distribution.
The sports and race events are part of a broader focus at Vanderbilt on social issues. The Chancellor's Lecture Series includes such names as author/activist Dr. Jelani Cobb, mental health activist and author Patrick Kennedy and MSNBC host Chris Matthews. Dr. Martin Luther King Jr. Day teach-ins are scheduled on topics such as free speech and activism.
"There's a direct connection between what Perry Wallace, Jackie Robinson and Bill Russell went through," Edwards is quoted as saying on the film's official website. "And I think if it had failed at Vanderbilt in basketball, the chances are very, very good that you never would've seen Michael Jordan at North Carolina. So it's important that we recognize Perry Wallace."