As a historian who happens to have an affinity for jazz, Dr. Maurice Jackson of Georgetown University combines both in a book that explores the America-born musical genre's presence in Washington, D.C. and its intersections with government, politics, race, religion and higher education.
Howard University and the University of the District of Columbia have played key roles in jazz education and appreciation and today serve as leading institutions in the study and performance of the art form. Those stories and others are told in DC Jazz: Stories of Jazz Music in Washington, DC, which Jackson co-edited with Dr. Blaire A. Ruble, a distinguished fellow at the Woodrow Wilson International Center for Scholars.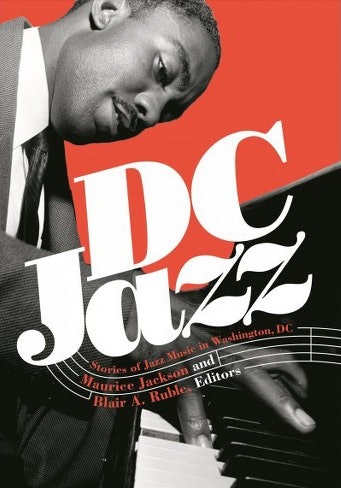 The nation's capital as a key location in the evolution of jazz has largely been unknown, but not to those familiar with D.C. history, says Jackson, an associate professor of history and African American Studies.
"It was a big thing here," says Jackson. "There were venues and clubs, and there was music in schools. D.C. had so much talent. Like 'Buck' Hill. The great Shirley Horne. So many others. But you've got to go to New York to make it."
That's what some did, earning fame and fortune. Others returned or simply stayed in D.C. Numerous people and places in the district were key to creating the jazz story, including the Library of Congress and Kennedy Center with concerts; Ahmet and Nesuhi Ertegun, sons of a Turkish diplomat and co-founders of Atlantic Records who fell in love with jazz and helped spread it around the world; Billie Holiday singing the hauntingly metaphorical anti-lynching song "Strange Fruit" at a club on U Street; and the ascent of native son Duke Ellington as one of the greatest jazz musicians of all time.
The book's origins go back about five years, when Jackson suggested an issue on jazz in D.C. to Washington History, a scholarly journal published by the Historical Society of Washington, D.C. The special issue was published in spring 2014 and contained articles by Jackson and Ruble.
Jackson invited Ruble to co-edit a comprehensive book on the topic, and Georgetown University Press published DC Jazz in 2018. The jazz studies programs and jazz ensembles at Howard and UDC, as well as other initiatives such as UDC's Felix E. Grant Jazz Archives and JAZZAlive events, illustrate the role of higher education in promoting the study and appreciation of jazz.
"They add a lot to it," he says. "They have strong programs and events and bring in new students." And, Jackson says, they are contributing to the revival of jazz in a gentrified D.C. that has transitioned from "chocolate city" to one that is increasingly vanilla.
"There are new clubs opening," says Jackson. "I think there's a resurgence of jazz here. I just hope there's some Black people around in D.C. to hear the resurgence."
Although Jackson enjoys being a historian and scholar, the Newport News, Va. native didn't aspire to a career in the academy. He dropped out of college after his freshman year and went to work in jobs ranging from a shipyard rigger and longshoreman to construction and community organizing around the world.
Jackson eventually earned a bachelor's degree in economics from Antioch College. In his late 30s, the husband and father returned to school, received master's and Ph.D. degrees in history at Georgetown in his 40s and transitioned to a career in the academy.
A historian of the Atlantic world in the 17th and 18th centuries, Jackson has written numerous articles on that topic and on African-American history and culture. He also wrote the book Let ­This Voice Be Heard: Anthony Benezet, Father of Atlantic Abolitionism in 2010 and coedited African-Americans and the Haitian Revolution with Dr. Jacqueline Bacon in 2008 and Quakers and their Allies in the Abolitionist Cause, 1754-1808 with Sue Kozel in 2015.
"I try to write history that's relevant to society," says Jackson, a past Wilson Center fellow who has lectured around the world.
He also has authored liner notes for two jazz recordings by Charlie Haden and Hank Jones and a 2017 report for the D.C. government titled "An Analysis: African American Employment, Population & Housing Trends in Washington, D.C." An inductee into the Washington, D.C. Hall of Fame in 2009, he later served as the first chair of the DC Commission on African American Affairs from 2013 to 2016.
Meanwhile, the storyteller in him lives. He's writing another book, Halfway to Freedom: African Americans and the Struggle for Social Progress in Washington, D.C. It chronicles the struggles of Black D.C. residents for dignity and equality from slavery through Jim Crow and civil rights-era riots to the present realities of gentrification and the lack of full voting rights for district residents.
LaMont Jones Jr. can be reached at ljones@diverseeducation.com. You can follow him on Twitter @DrLaMontJones.
This article appears in the May 2, 2019 edition of Diverse. It was updated to reflect that Jackson began studying for his advanced degrees in his 30s and completed them in his 40s.