Dr. Jonathan Holloway, provost of Northwestern University, was on Tuesday named president of Rutgers University, becoming the New Jersey institution's first Black leader.
Holloway, an expert in African American Studies and a trained U.S. historian, will begin serving as president on July 1.
He will replace Dr. Robert L. Barchi, who said in 2019 that the 2020 academic year will be his last as university president. He will also join the small number of minority university presidents in the country. Less than a fifth of the country's college and university leadership positions are held by minorities, according to data from the American Council on Education. Of them, only 8% are Black, Afro-Caribbean or African American.
"Jonathan Holloway is an extraordinarily distinguished scholar with an outstanding record as an academic administrator at Northwestern and Yale," said Rutgers Board of Governors Chair Mark Angelson in a statement.
"He is thoughtful, visionary, inclusive and decisive. He leads with remarkable integrity, and is just the right person to build upon Rutgers' long tradition as an academic and research powerhouse," Angelson added.
Holloway could not be reached for comment but in a press statement he said he "cannot wait to help write the next chapter" in the history of Rutgers.

"I was drawn to the opportunity at Rutgers University because of its amazing history, its foundation of excellence in teaching and its ambition to continue conducting life-changing research that improves our communities, our country and our world," said Holloway.
New Jersey Gov. Phil Murphy tweeted on Sunday referring to the new appointment.
"Dr. Holloway clearly showed he had the vision & experience to put the needs of students first & lead Rutgers to the next level," said Murphy in his tweet
Before he was appointed as Northwestern's provost in 2017, Holloway was the dean of Yale College, the first Black scholar to hold that position. He received a bachelor's degree in American Studies from Stanford University and a Ph.D in History from Yale University. While at Stanford, he was also on the university's football team. Before joining Yale's faculty in 1999,  Holloway was at the University of California, San Diego, where he began his academic career.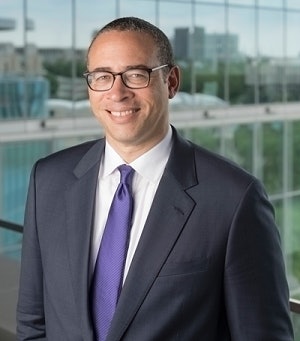 Holloway specializes in post-emancipation U.S. history with a focus on social and intellectual history. He is the author of Confronting the Veil: Abram Harris Jr., E. Franklin Frazier, and Ralph Bunche, 1919-1941 and Jim Crow Wisdom: Memory and Identity in Black America Since 1940.
Following news that Holloway had been tapped to lead Rutgers, U.S. Sen. Cory Booker, D-N.J., his former teammate at Stanford, tweeted saying the appointment would be a "historic first" for Rutgers.
"Glad that @RutgersU is set to make this announcement. It will be a historic first and well-deserved achievement for Jonathan Holloway, my former Stanford teammate. I know great things will be in their future with you at the helm," said Booker.
Holloway has the ideal set of experiences that makes him an excellent choice to lead the public Rutgers University, said Dr. Alondra Nelson, a friend and colleague from when both academics taught at Yale in the early 2000s. That's because his career trajectory involves scholarship, teaching at a large public institution like the University of California, interacting with undergraduates and graduates at Yale to work toward their interests and as provost at Northwestern being part of administration at a multi-site institution, said Nelson, who's now president of the Social Science Research Council.
"What's inspiring about Jonathan is that as his career has led him to higher administrative positions he has kept a toehold in what it means to be a scholar and a researcher, and he understands how important the knowledge mission is for social betterment. He has been at leadership at the highest ranks and has worked closely with students as well to keep their interests front and center," said Nelson, who also holds the Harold F. Linder Chair in the School of Social Science at the Institute for Advanced Study, an independent research center in Princeton, New Jersey.
Nelson sees Holloway reimagining and reinvigorating life at a public institution. What's more, she said, he will have an impact beyond Rutgers.
"Because Jonathan has such a depth of experience, this is clearly to me an appointment that will have national relevance; we will see innovation and new ideas around the future of public higher education in the country," she said.
Northwestern's campus newspaper, The Daily Northwestern, said yesterday that Holloway helmed many singular initiatives as provost of the university.
"In his two and a half years in Evanston, Holloway implemented a new review process for deans, helped start the Undergraduate Student Lifecycle Initiative to support first-generation and low-income students and launched Books for Cats as a program to loan students STEM textbooks," reported the newspaper.
While he was dean of Yale, Holloway "embraced some student demands, like calling for a more diverse faculty," reported an article on Sunday in The New York Times.
"This is such a great move on Rutgers's part. Very proud of where I used to work, and of Jonathan!" tweeted Annette Gordon-Reed, professor of American legal history at Harvard Law School.
Holloway has a track record of serious engagement as a scholar and as a very congenial and collaborative interlocuter in a leadership role, said Dr. Natalia Mehlman-Petrzela, associate professor of history at The New School.
"I am very happy to hear of Dr. Holloway's appointment. I think humanities have been under attack in this higher education climate and we are certainly living in a moment where there's a lot of polarization around race, so it's very encouraging that Rutgers is not only going to appoint an African American scholar, but that this appointment is of a humanities scholar," said Mehlman-Petrzela.
In his new role, she said that she expects that Holloway will raise the importance of history education and the humanities in general, and to studying African American history and marginalized groups.
"This will be a great thing for the national conversation," said Mehlman-Petrzela.